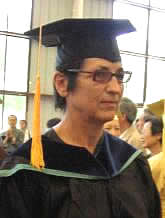 I arrived at The City of Ten Thousand Buddha's in the wake of the International disaster of 9/11…My son was barely 10 years old. Having been raised and educated in England, I wanted to ensure a good education for my son and really liked the principles valued by the Instilling Goodness Boys School.
I had been living in the Napa Valley and working three jobs, teaching at Mendocino College in Lake County, working as a fitness instructor in a luxurious Spa off the Silverado Trail and teaching dance and movement to mentally ill adults for Napa College. I was teaching at the spa when the twin towers came down. There were televisions repeatedly showing the horrors of this event all day long. When I arrived home that evening I sensed a change of heart, as though the "twin towers" of my own dualistic thinking also tumbled, and I could no longer sustain my "double life" working in two very different milieu's – Community College and exclusive Spa. I had been involved with the study and practice of Buddhism for many years, but was feeling completely overwhelmed at my own lack of clarity and wisdom. I heard about a job being advertised for an art instructor at the schools in The City of Ten Thousand Buddha's, so I applied. I was taken on as an English teacher, and it wasn't until some years later that I began to teach art and folk dance and yoga as well.
My son left the school to return to his peer group in a State school and to live with his father. I stayed on at The City of Ten Thousand Buddha's and continued to teach in both the Girl's and Boy's schools.
Being a resident at The City of Ten Thousand Buddha's gave me the chance to reflect on my life, pick myself up, and move forward…
Almost 10 years has passed since I first entered the City, and this year I have graduated with a Masters in Buddhist Education from the Dharma Realm Buddhist University. My son has gone on to college.
Although I am not earning a living wage as teacher in the schools, the benefits of being at The City of Ten Thousand Buddhas are priceless. I have been encouraged by the administration of both schools and the university to develop not only as an educator (by being sent on staff development trainings) but also as a cultivator (being allowed to participate in Sutra study and sessions in the Buddha Hall) In December I will go to Australia with a delegation to attend the World Parliament of Religions and represent the school.
I am very grateful for being able to be part of a community that values what is truly important in life. And now, at a time when the world seems to be spinning out of control with financial, spiritual and familial crises, it is truly a good place to be.
<< PREVIOUS NEXT >> CONTENTS