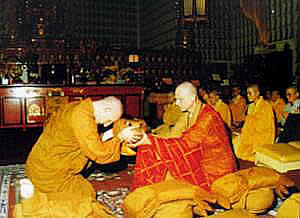 Dharma Masters of the southern and northern traditions gather in the same hall.
In a symbolic exchange between the northern and southern traditions in May 1991, Ajahn Amaro, Co-abbot of Amaravati Buddhist Center, on behalf of the Theravadan Sangha, offered robes and almsbowls to the Sangha led by the Venerable Master Hua.
This marked another page in the history of Buddhism.