This golden image with a thousand hands is nearly 20 feet high.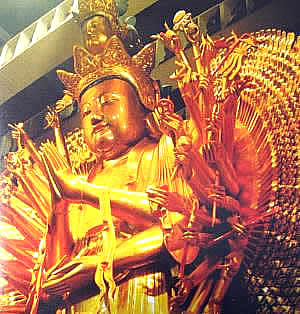 The Sagely City holds three separate week-long Guanyin sessions annually.
The Venerable Master Hua said:
"The City of Ten Thousand Buddhas is Guanyin's Bodhimanda. Guanyin Bodhisattva is the host and Earth Store Bodhisattva is the assisting host...Go to the Sagely City if you want to make a pilgrimage to pay respects to Guanyin Bodhisattva."