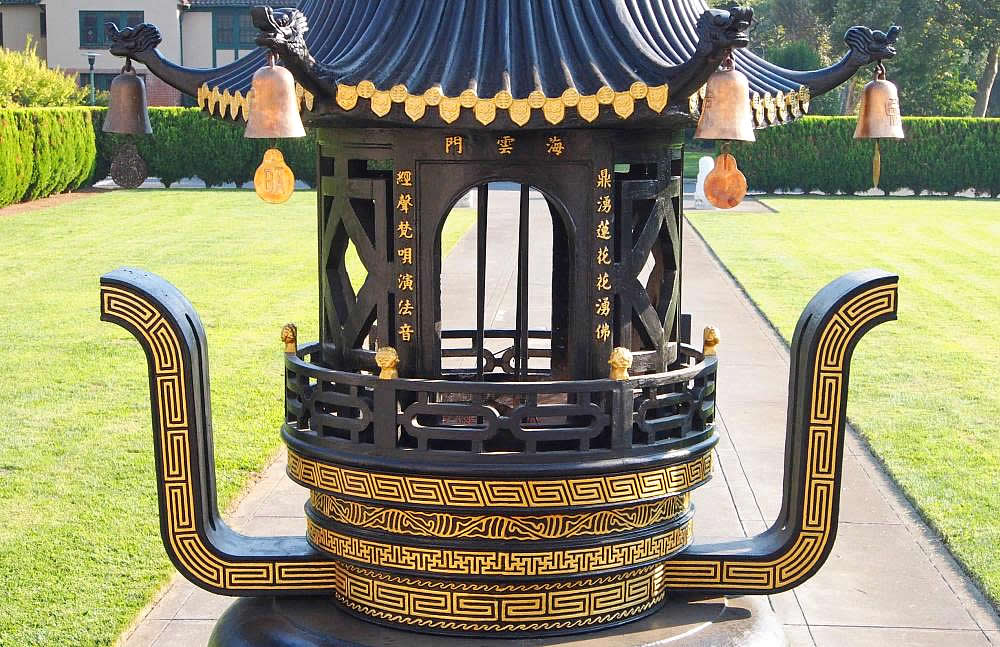 Precious Dharma Revealed
on CTTB's Towering Censer

Repainted and re-gilded in the summer of 2017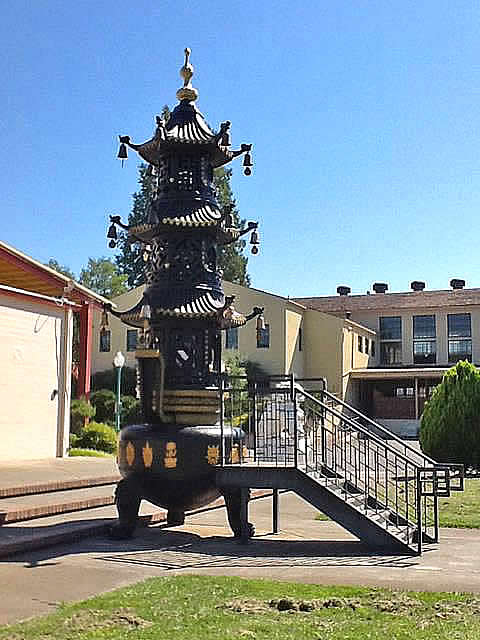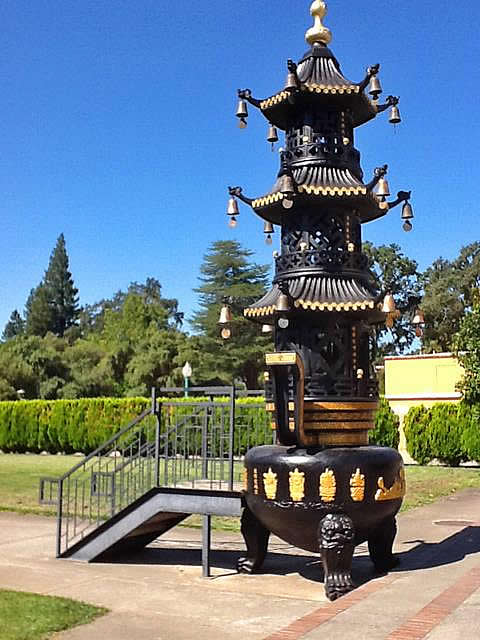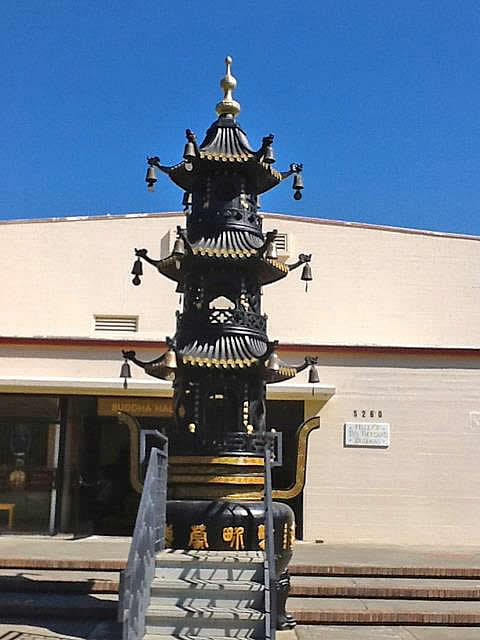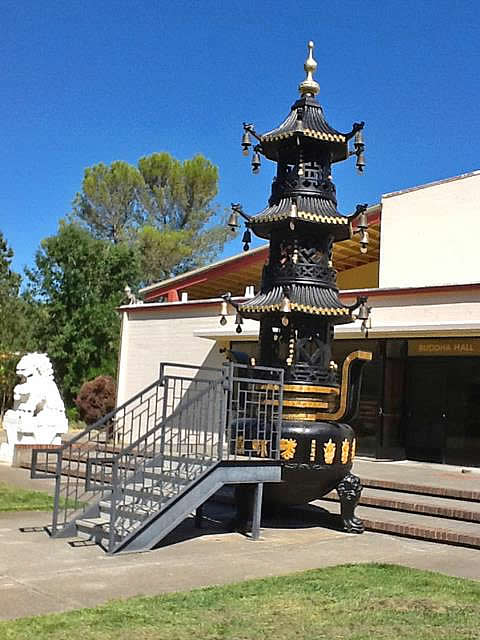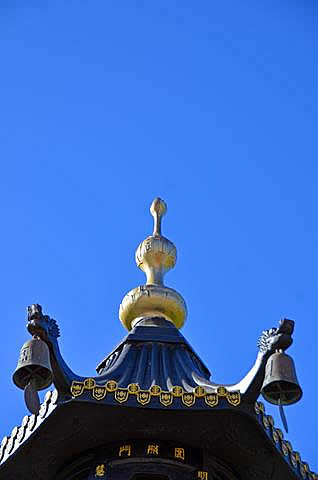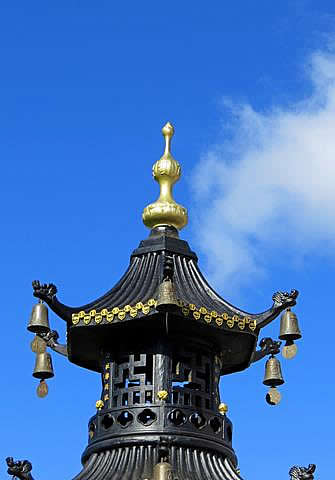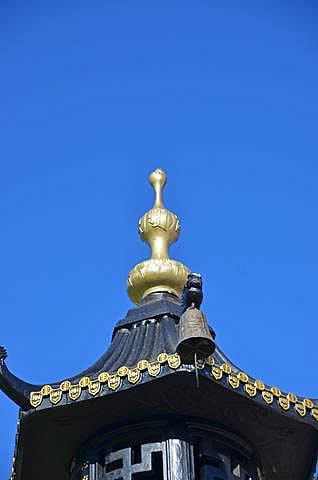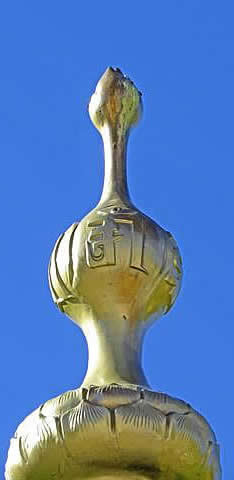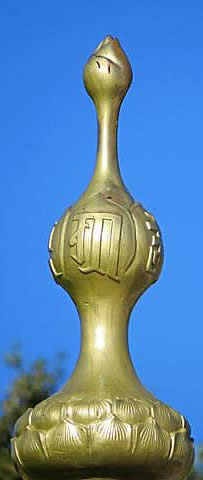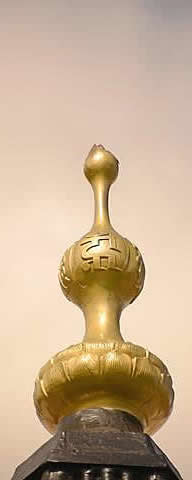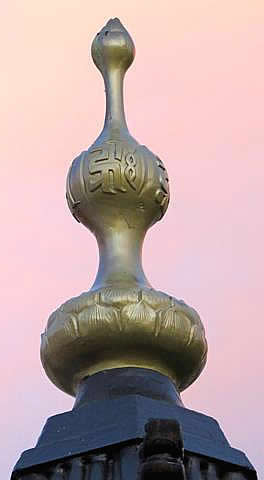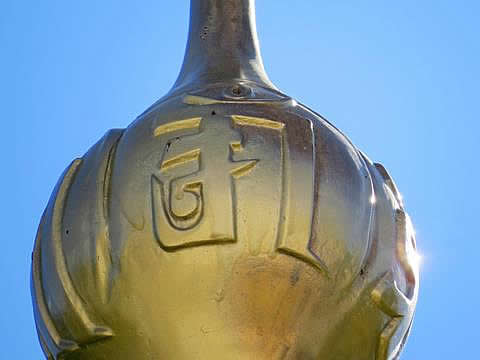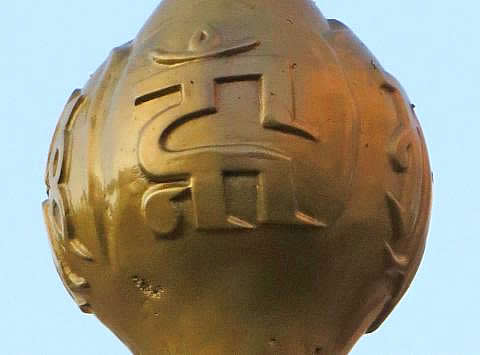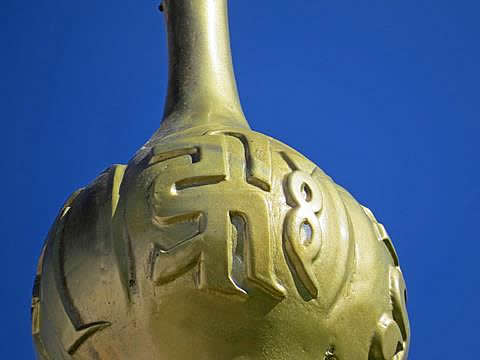 There are altogether six verses in the front and back of the 3-tier censer...

圓照門:
明月映塵刹
慧日照大千

Door of Perfect Illumination:
The bright moon shines in lands as numerous as motes of dust
The wisdom sun illuminates the Great Thousand World.

莊嚴門:
心寂即所住
戒行即莊嚴

Door of Adornment:
The tranquil mind is just where one abides;
With the practice of precepts, one adorns oneself.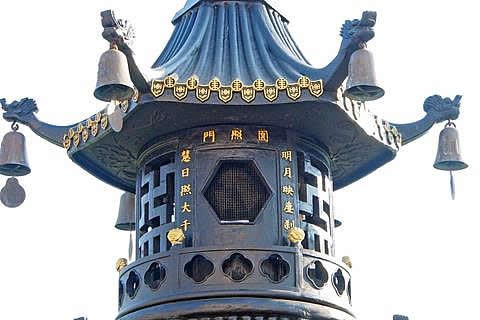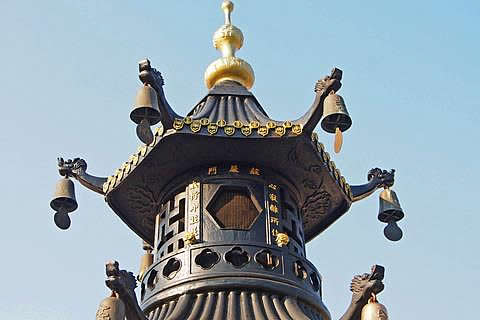 聞思門:
此方真教體
清淨在音聞

Door of Listening and Pondering:
In this land the true substance of teaching
Resides in hearing the sounds purely.
(from The Shurangama Sutra, chapter 5, Guan Yin Bodhisattva's Perfect Penetration)

不二門:
一稱南無佛
皆已成佛道

Non-dual Door:
And say but once, "Namo Buddha,"
They have realized the Buddha Way.
(from The Lotus Sutra, Chapter 2, Expedient Devices)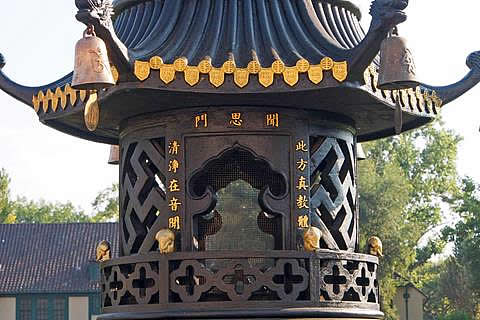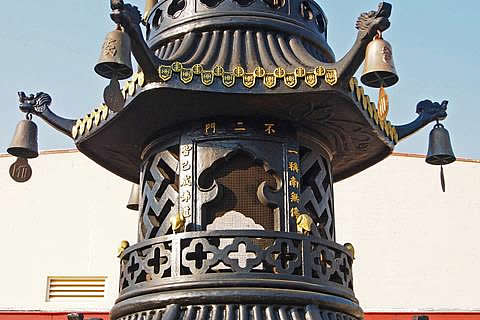 海雲門:
鼎湧蓮花花湧佛
經聲梵唄淨法音

Door of Sea and Cloud:
The censer pours forth lotus flowers, while Buddhas emerge from lotus flowers
Sutra recitation and chanting of prayers being the pure Dharma sound.

總持門:
百千妙門歸方寸
恒沙功德在源頭

Door of Uniting and Upholding:
Hundreds of thousands of wondrous doors return to the mind
Merit and virtue as numerous as Ganges sands are at the fountainhead.
(Based on the verse by Chan Master Daoxin 道信禪師, 580-651 CE, the fourth Chan Patriarch of China.)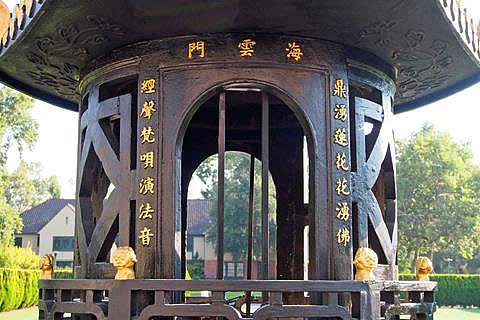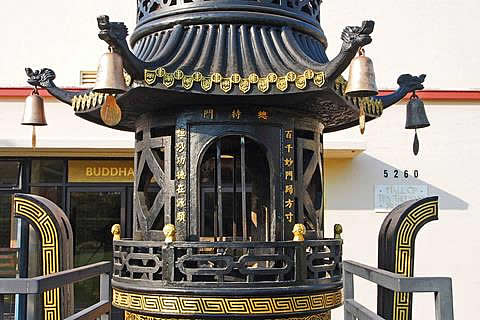 The 4 Chinese characters across the diameter:
法界蒙薰 in 篆 font (Seal script) meaning "the Dharma Realm receives the incense fragrance."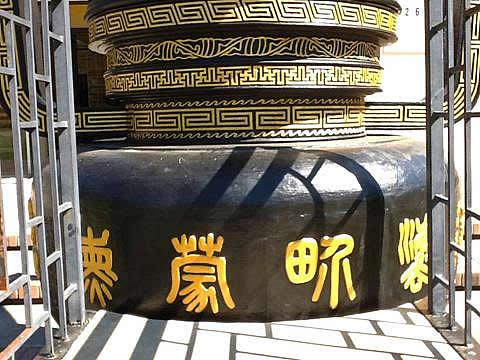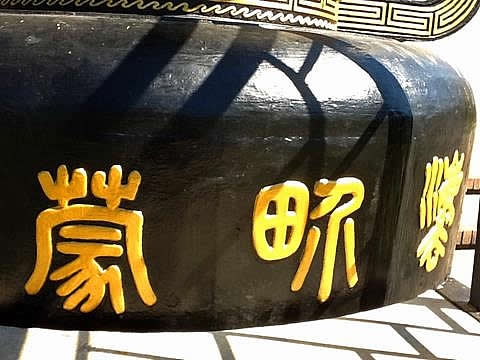 Incense Praise

Incense in the censer now is burning; all the Dharma Realm receives the fragrance,
From afar the sea vast host of Buddhas all inhale its sweetness.
In every place auspicious clouds appearing,
Our sincere intention thus fulfilling, as Buddhas now show their perfect body.
Namo! Incense Cloud Canopy Bodhisattva Mahasattva!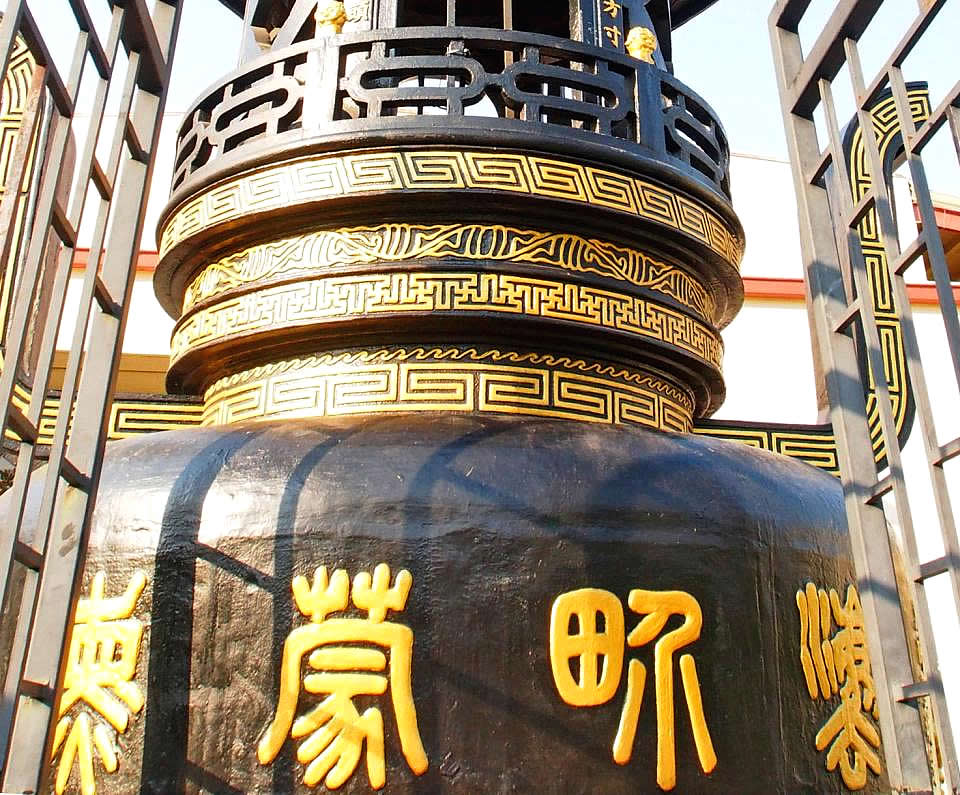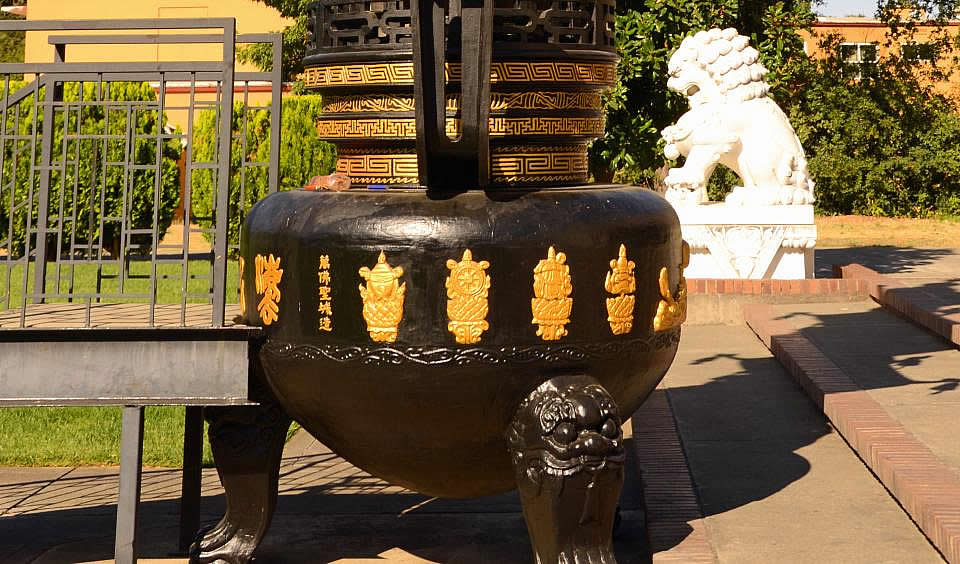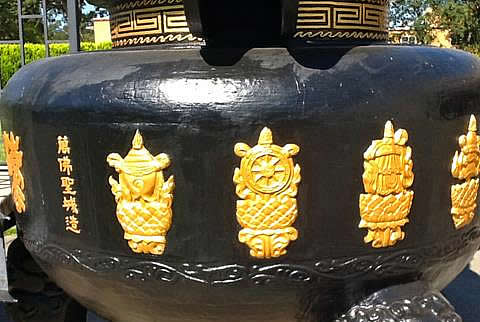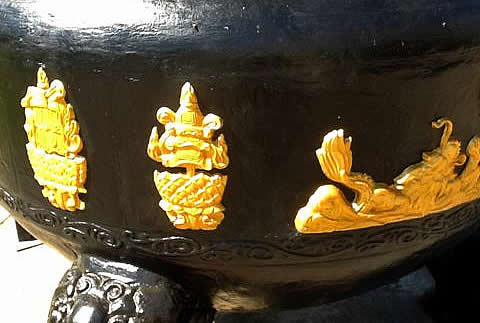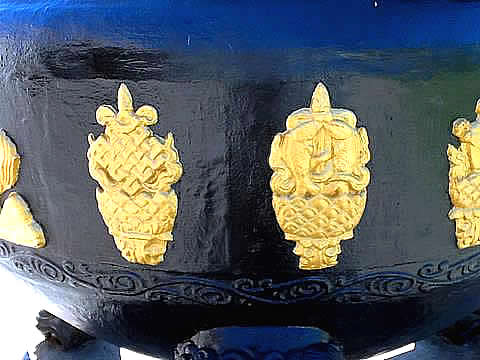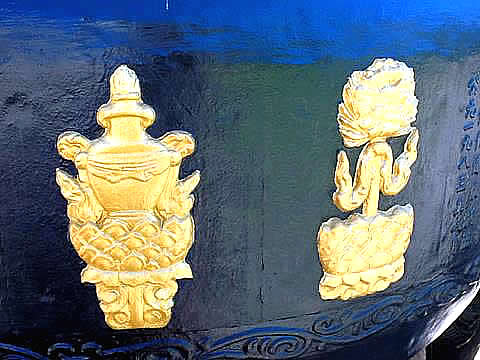 The eight auspicious symbols:
conch, wheel, victory banner...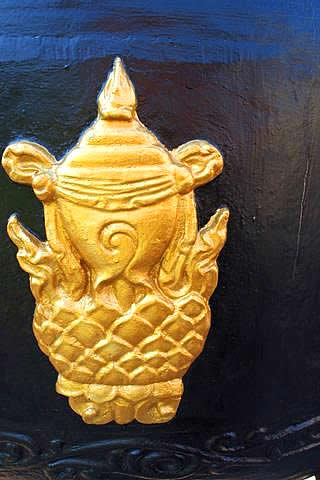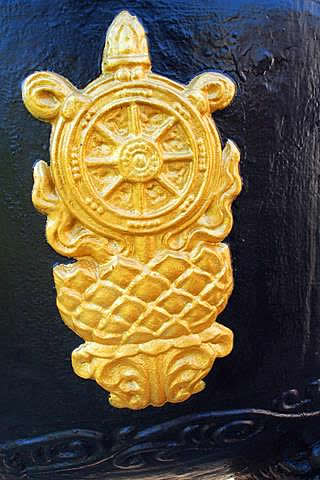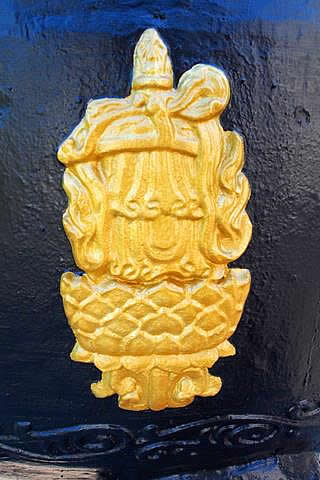 parasol, infinite knot, pair of golden fish...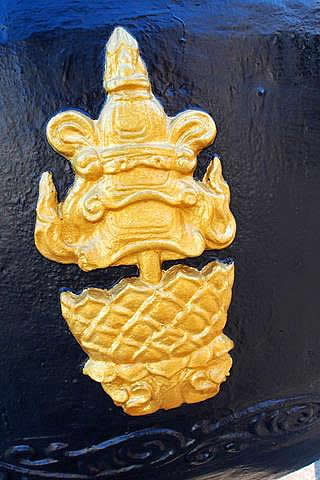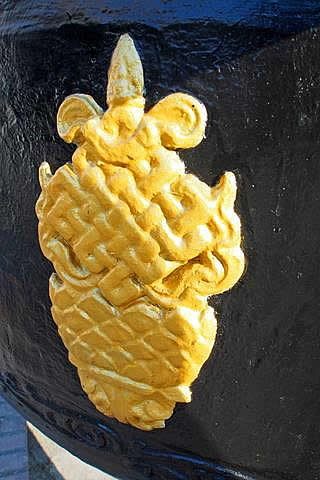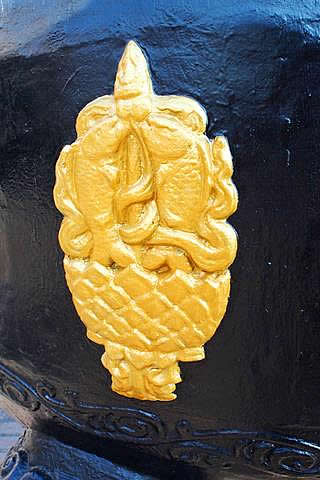 treasure vase, and lotus...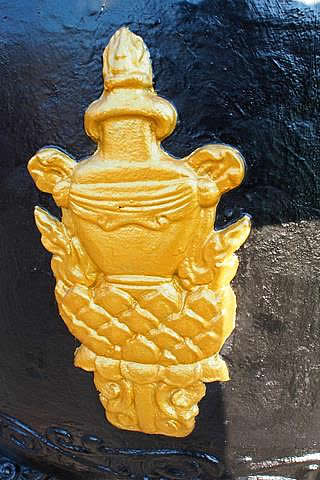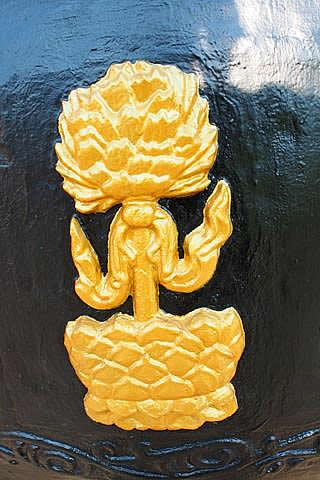 The censer is commissioned to be cast by CTTB and was made in the Steel Foundry of Changzhou, Jiangsu Province, People's Republic of China...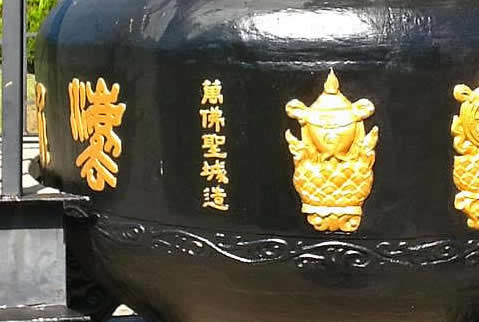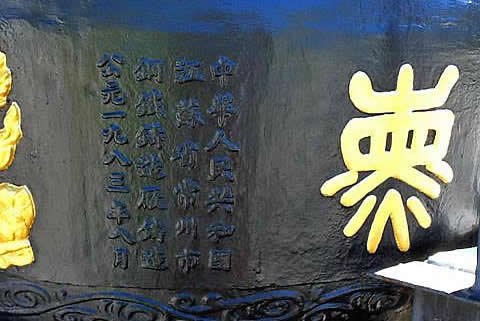 雙龍吐珠

is the Chinese expression for the double dragon with the pearl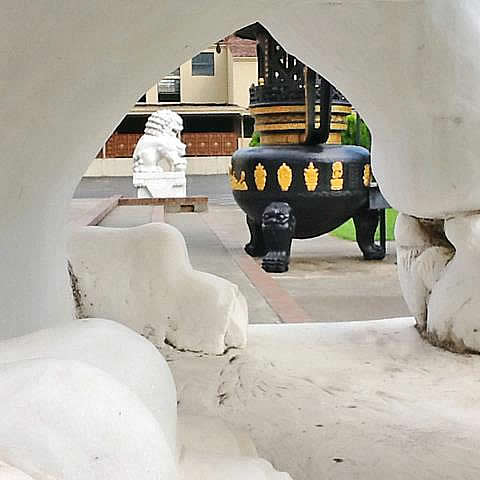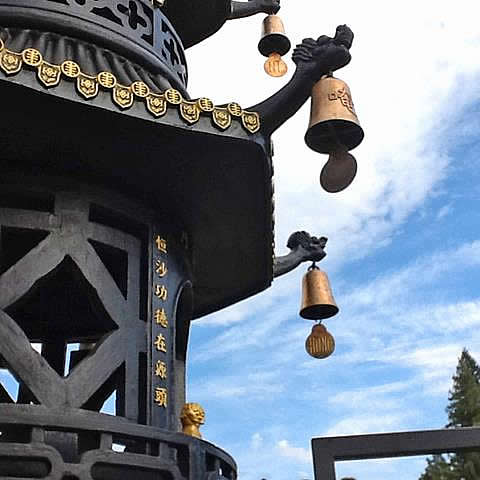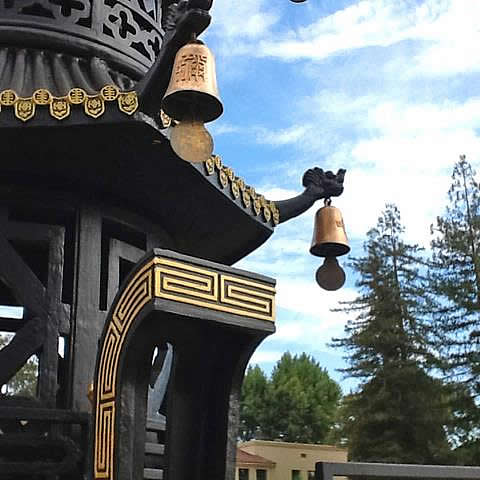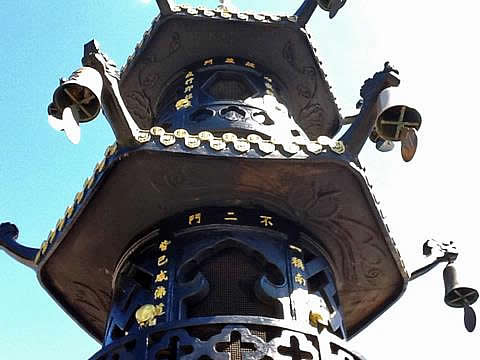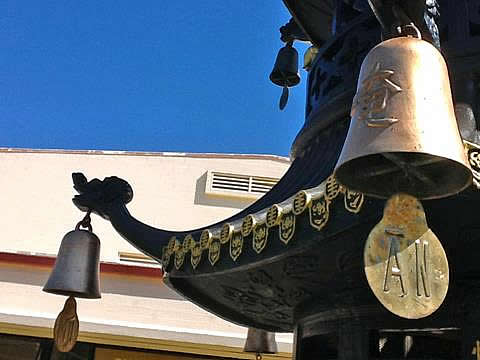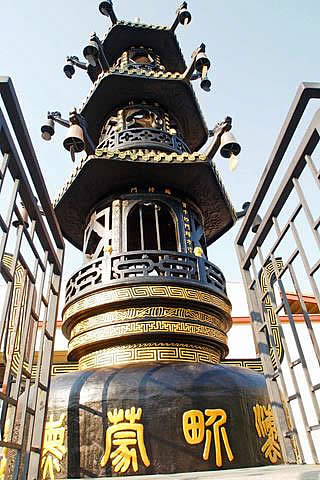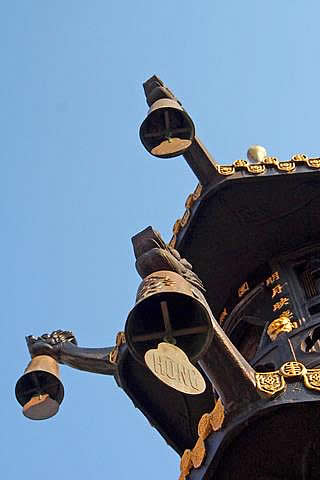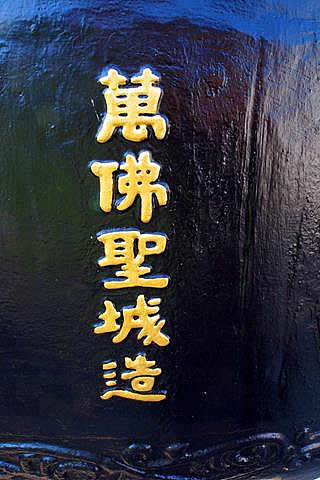 OM MANI PADME HUM...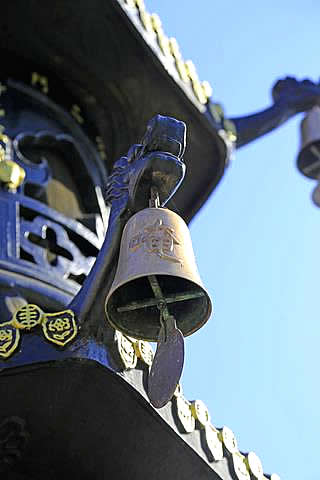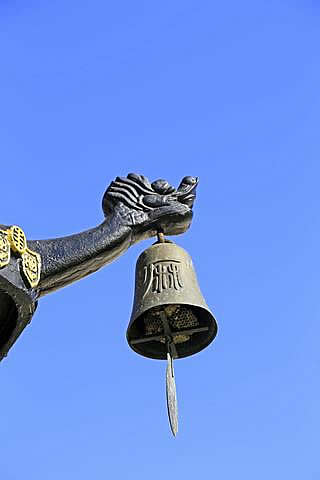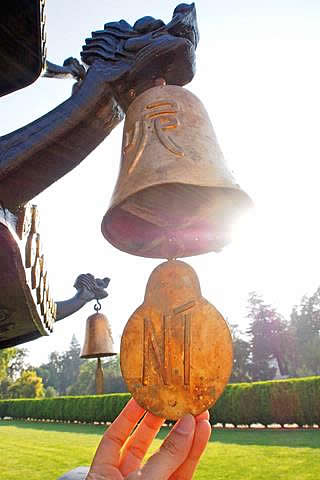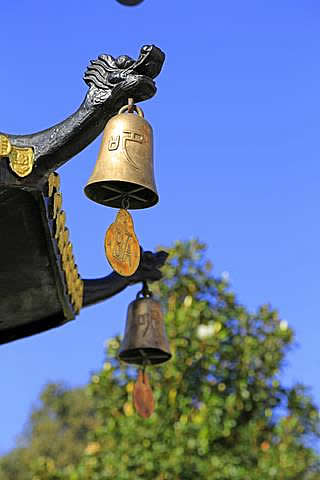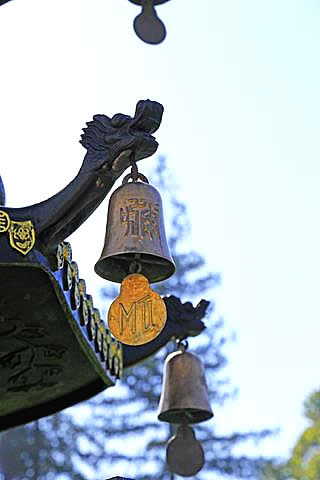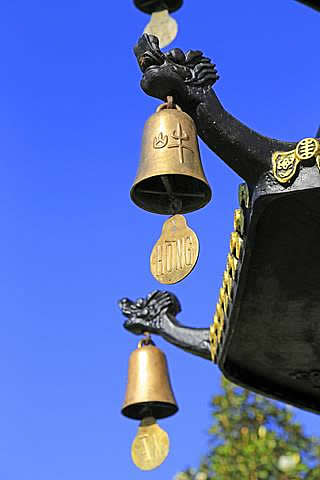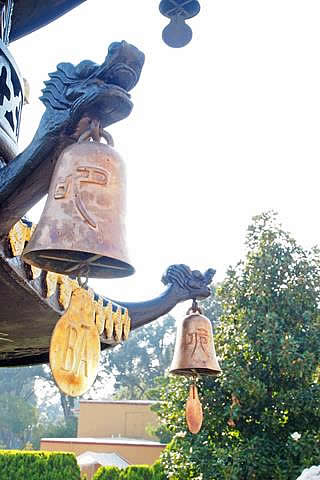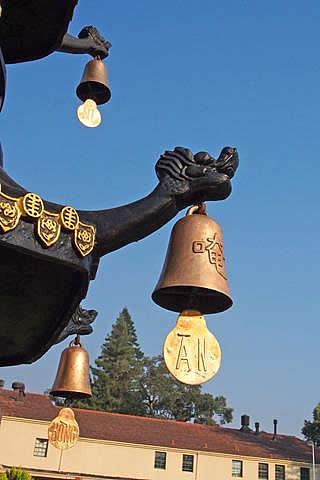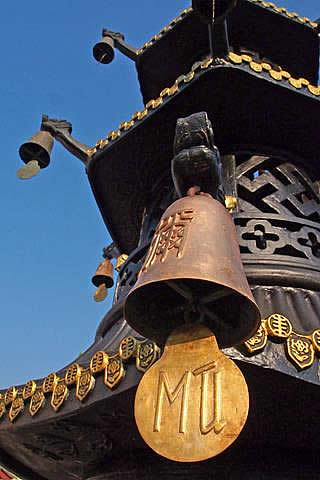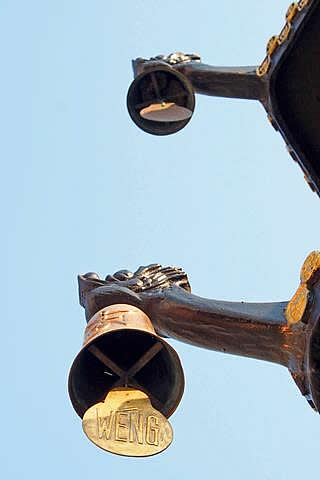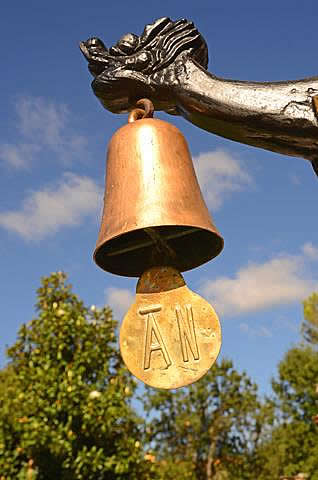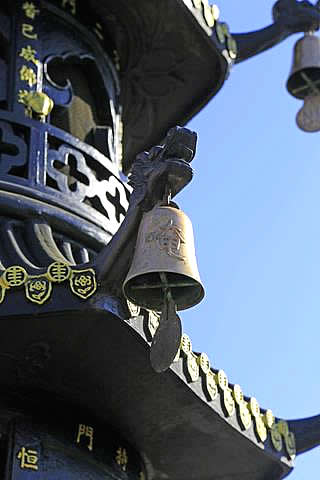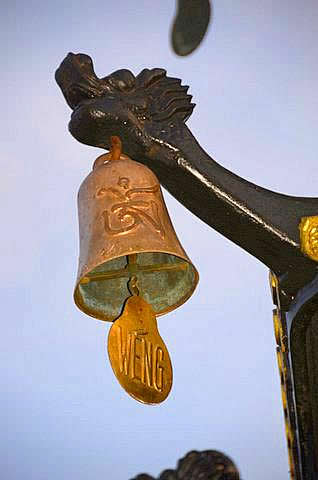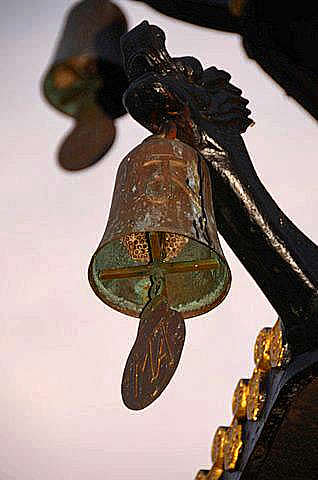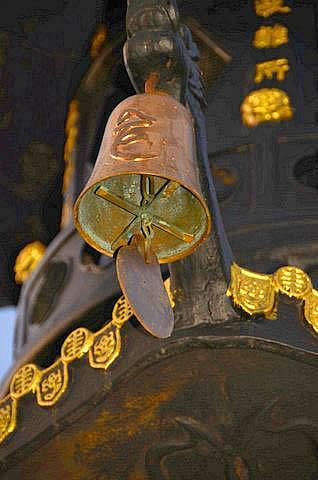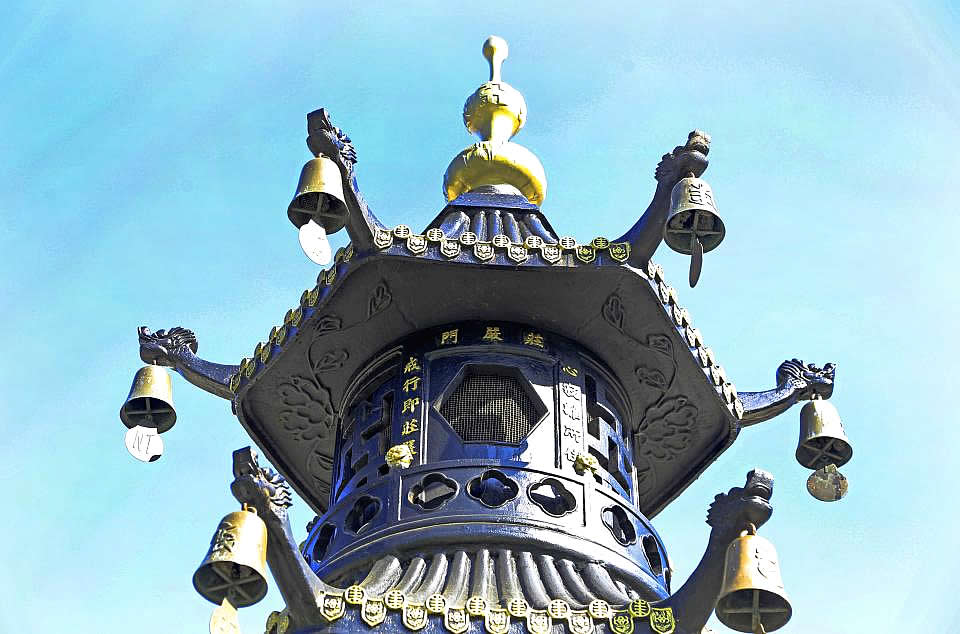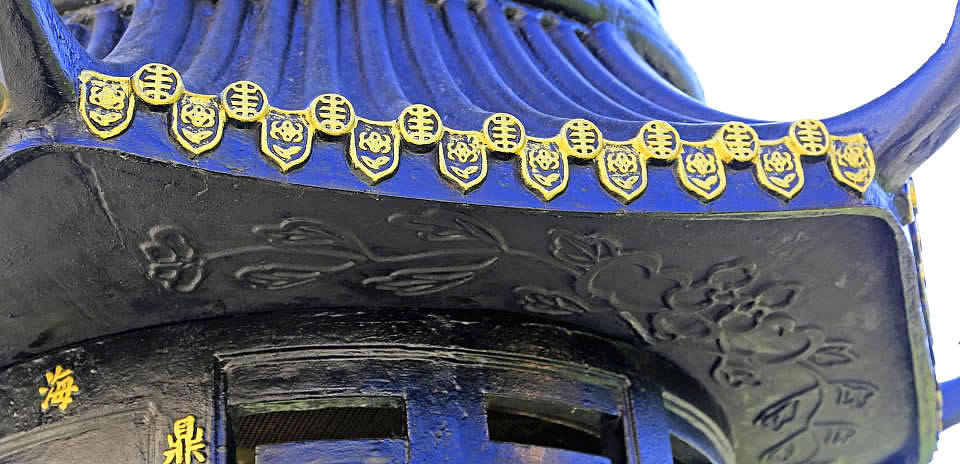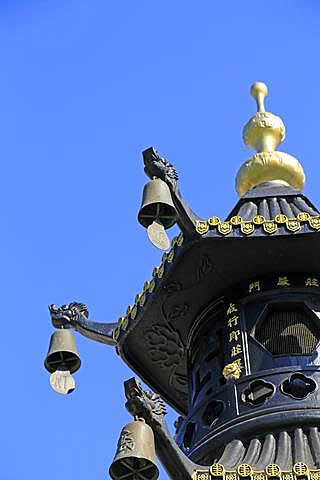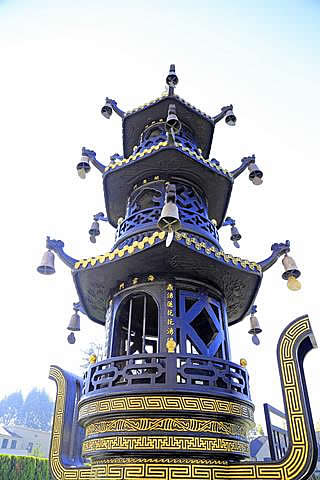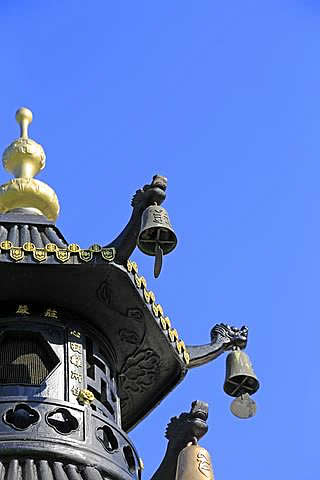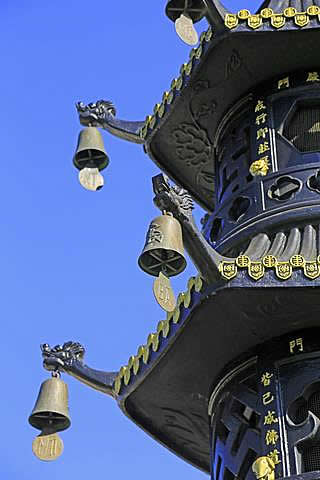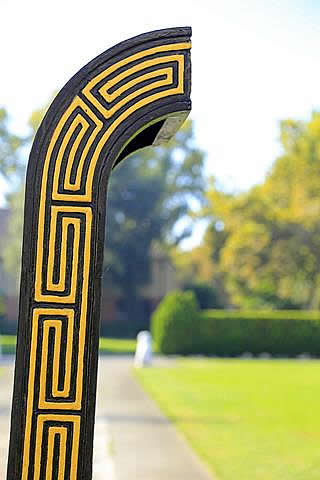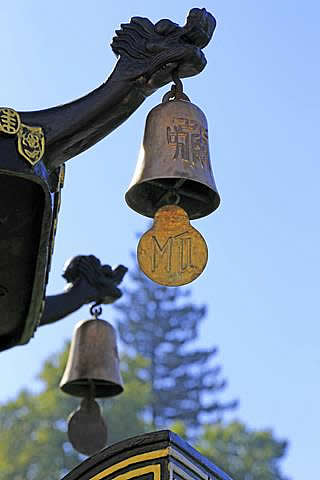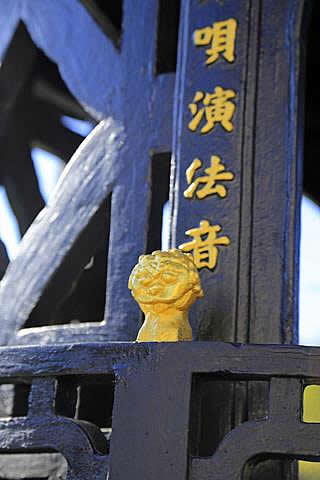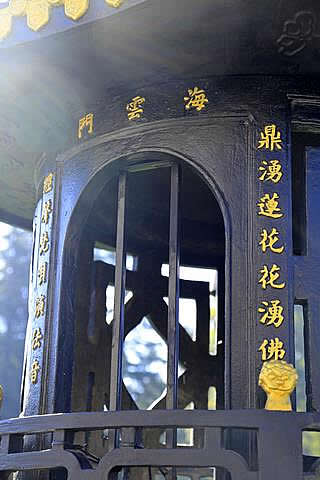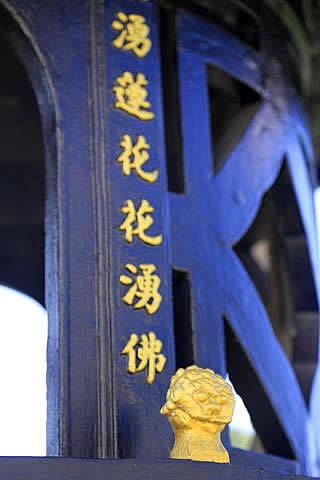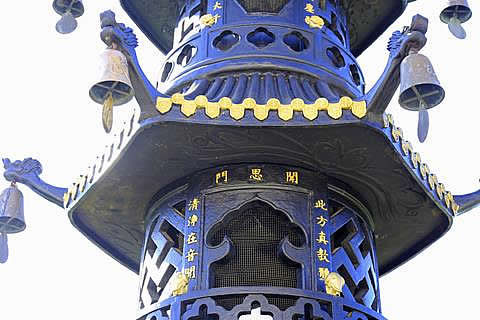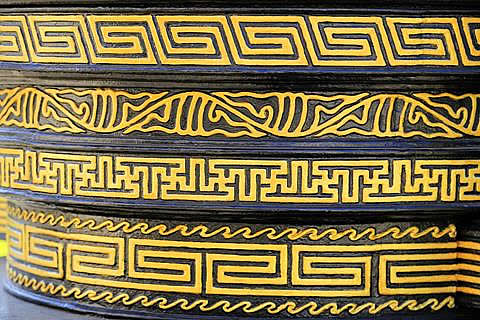 Svastika/Wan (or swastika) symbol—upright (top tier) and rotated (middle tier).
The insignia Wan ("myriad") on the Buddha's chest represents the adornment of the myriad virtues...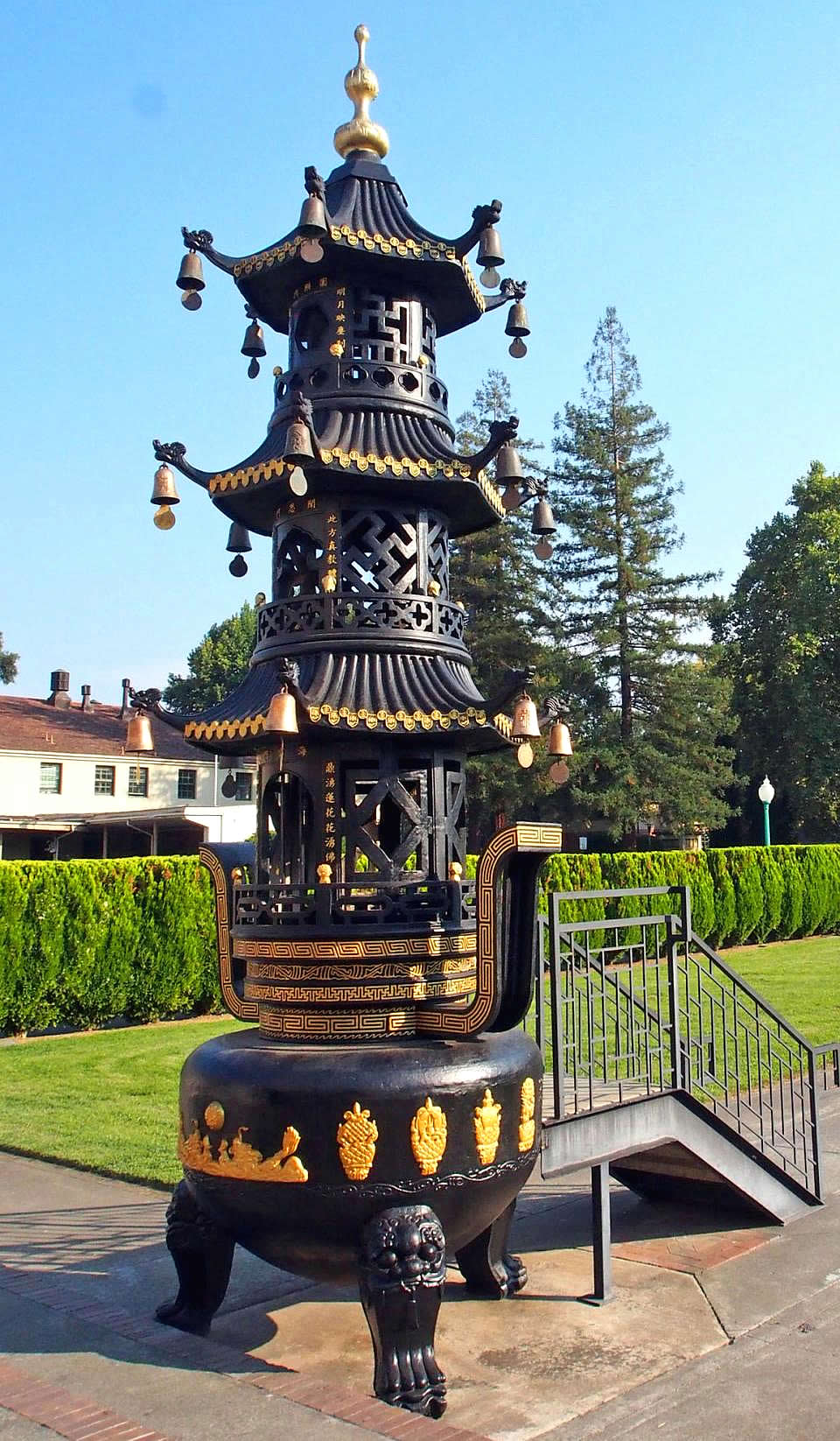 The opening shape for each tier and its surrounding design patterns with little statuettes are distinct and unique...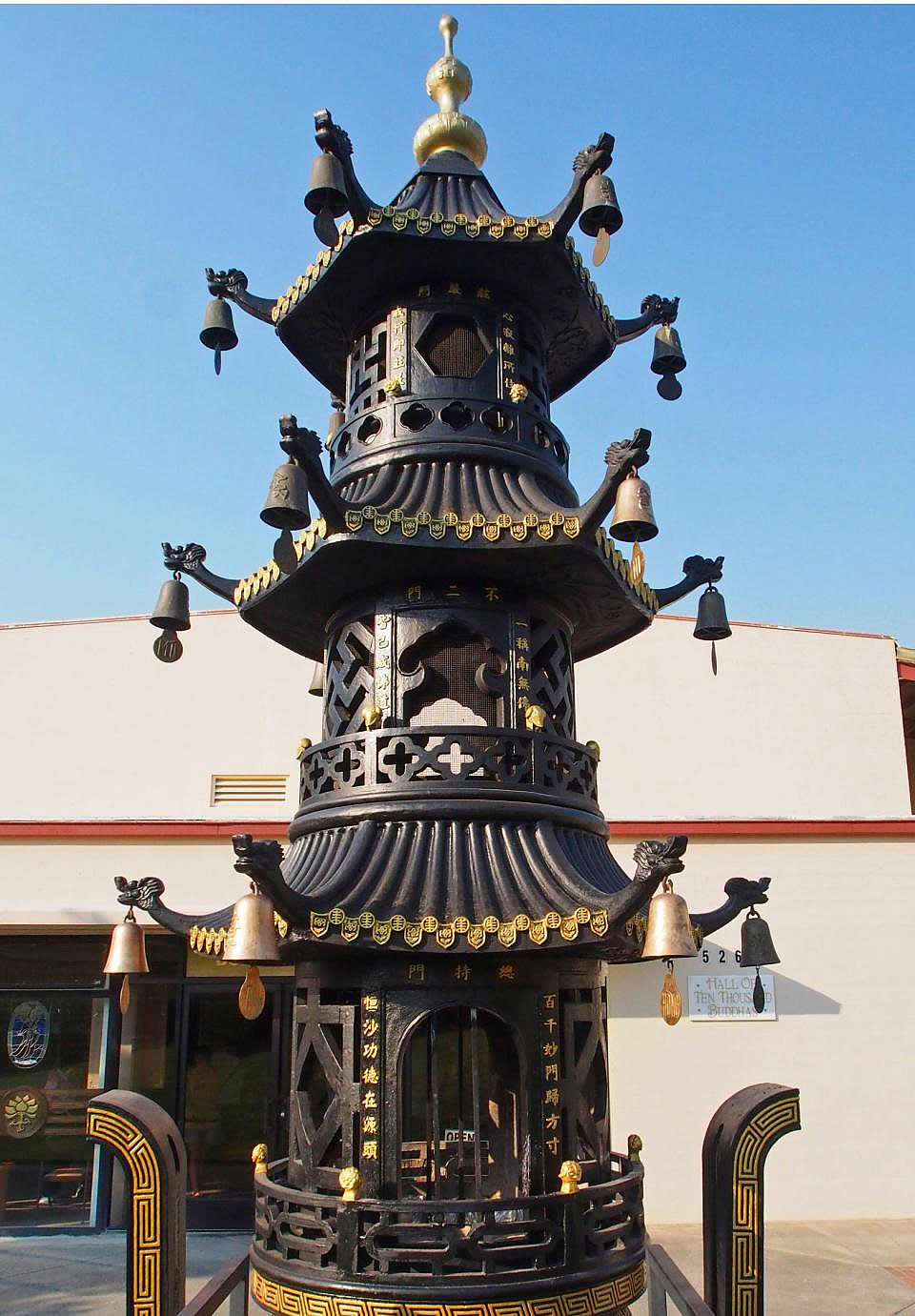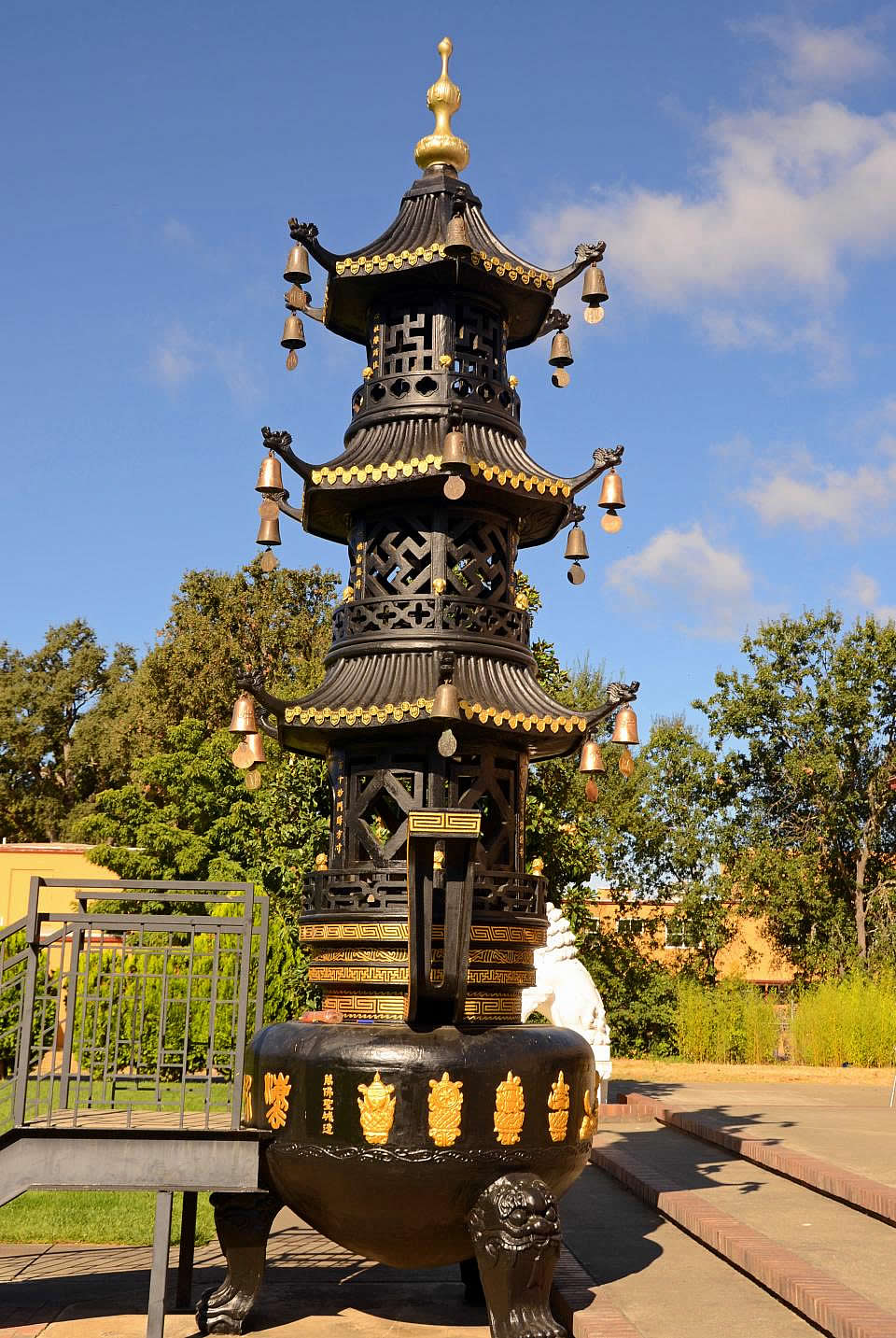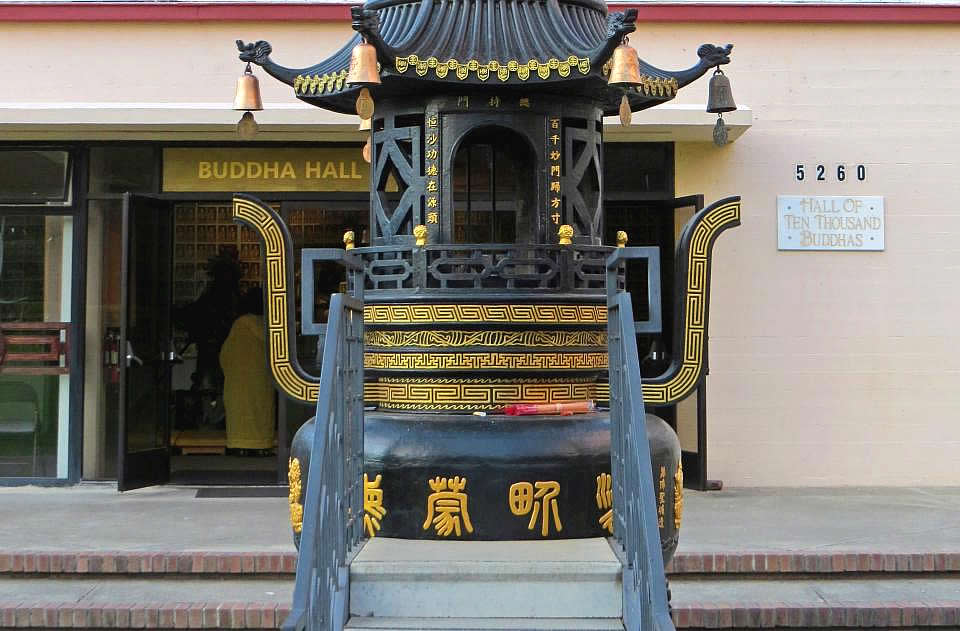 Through the years...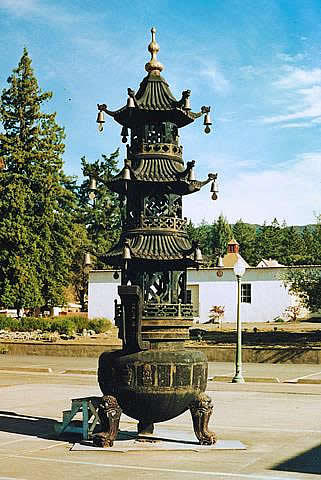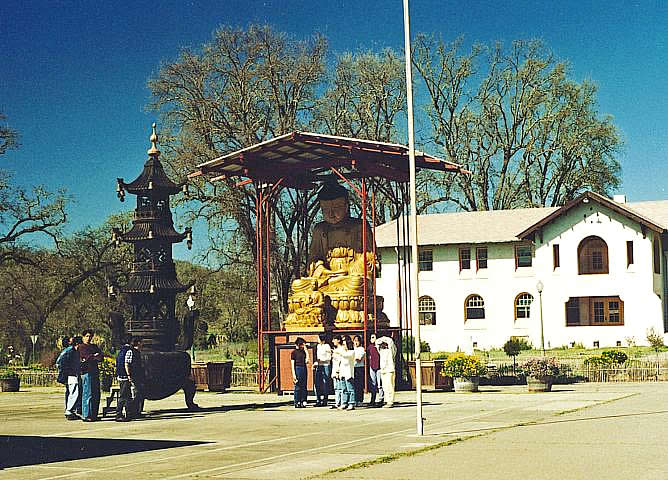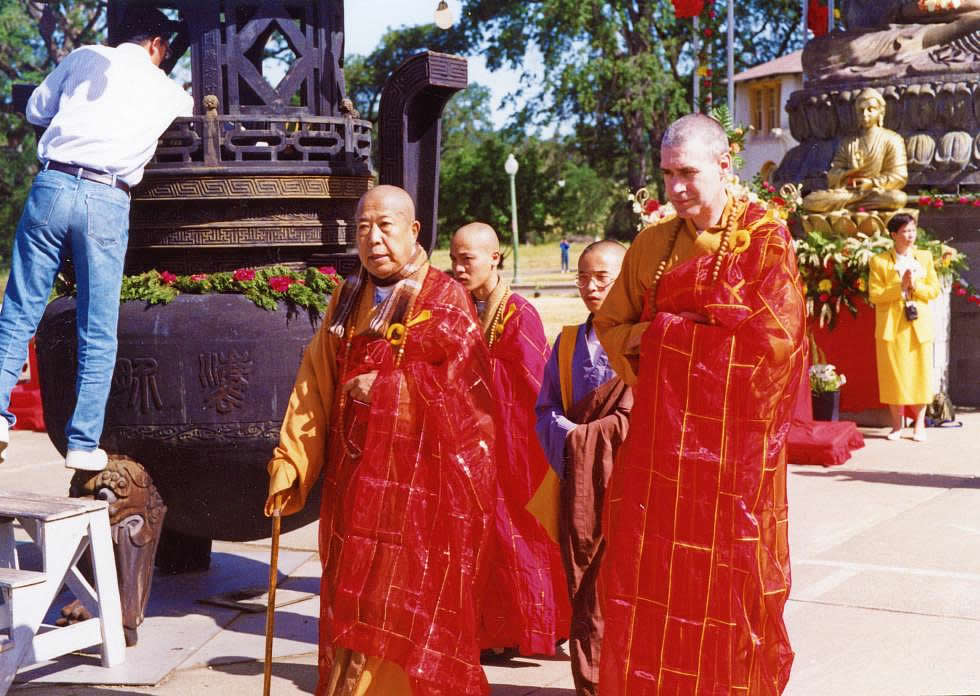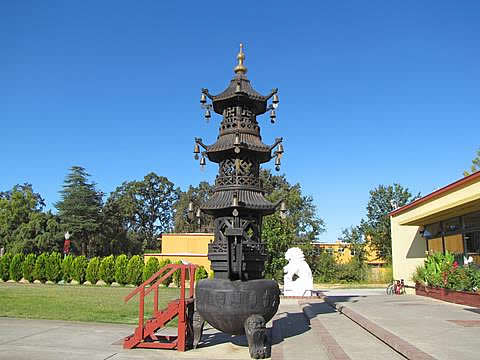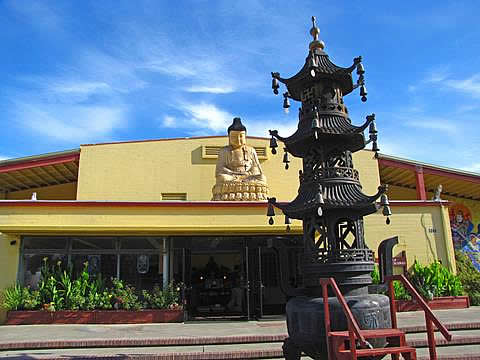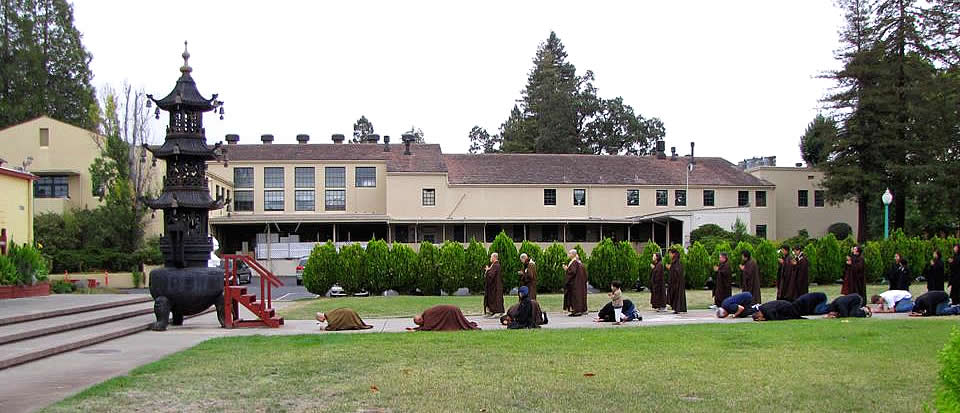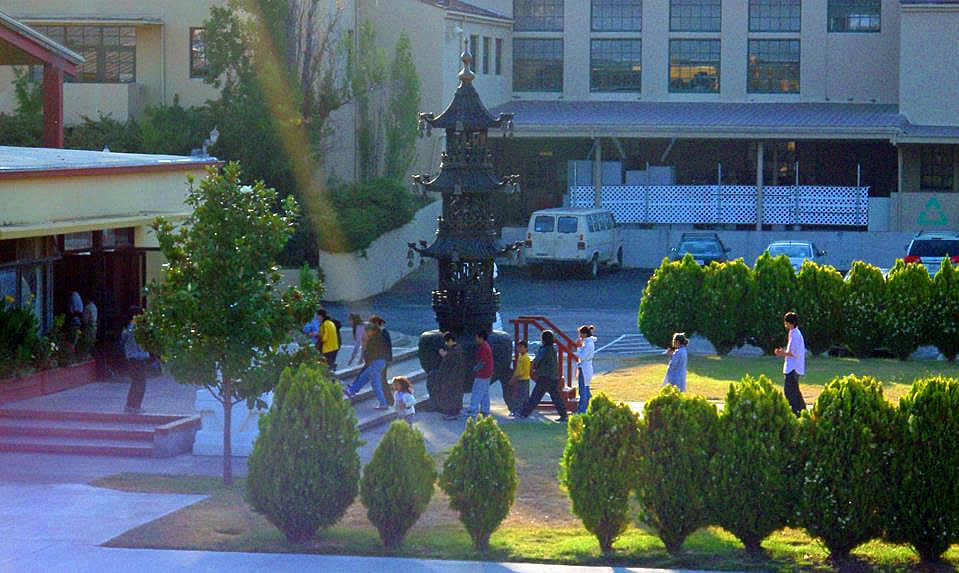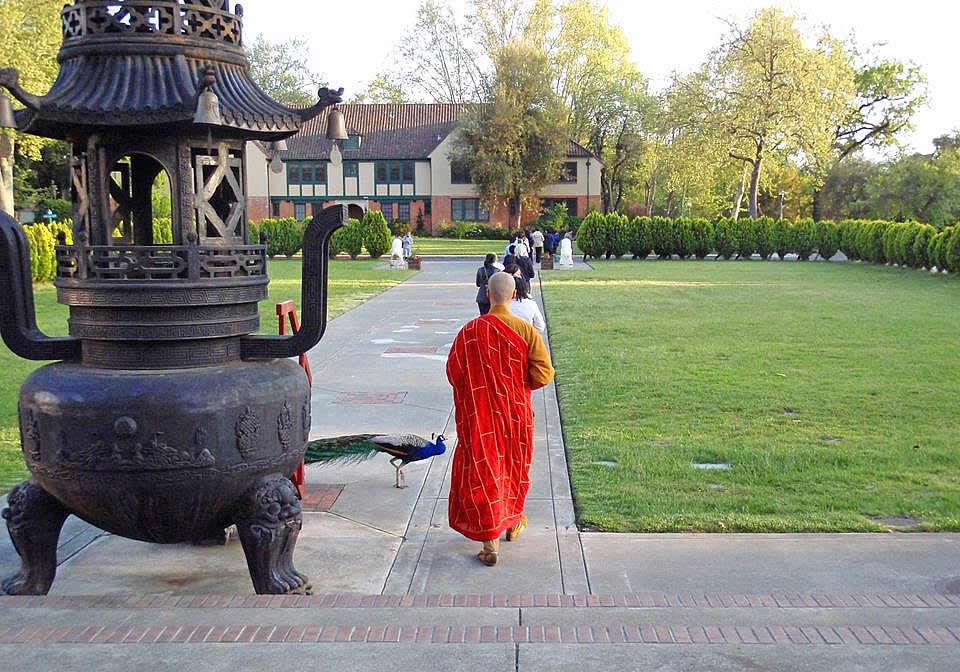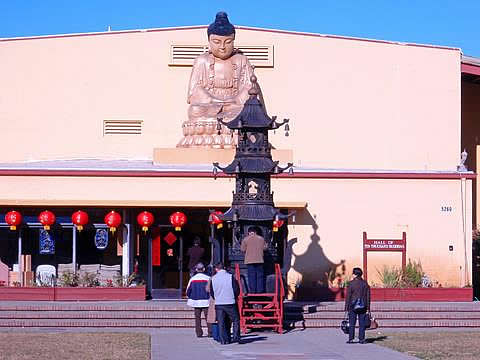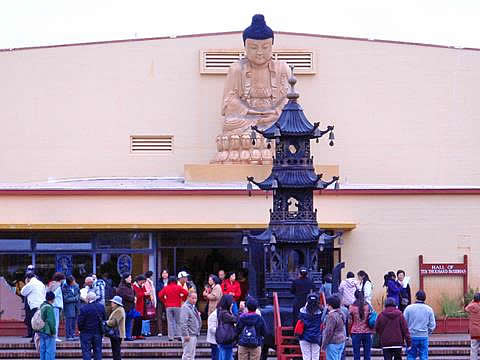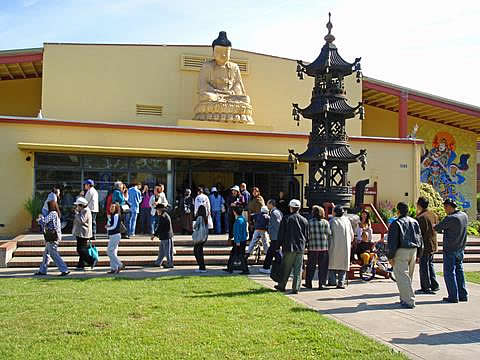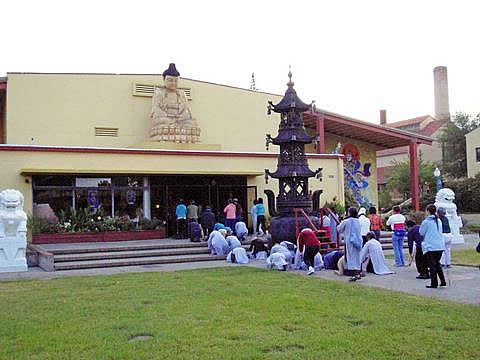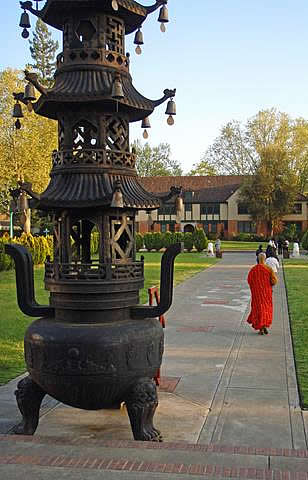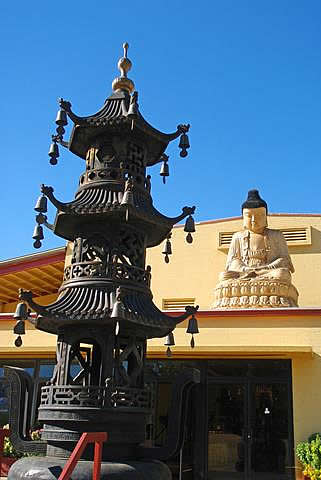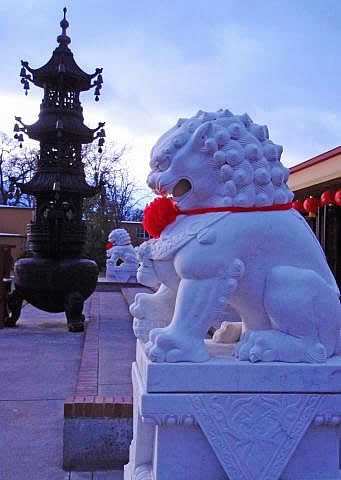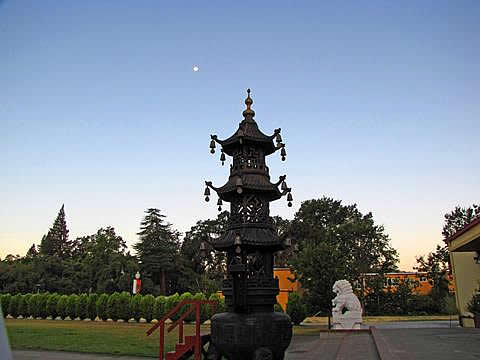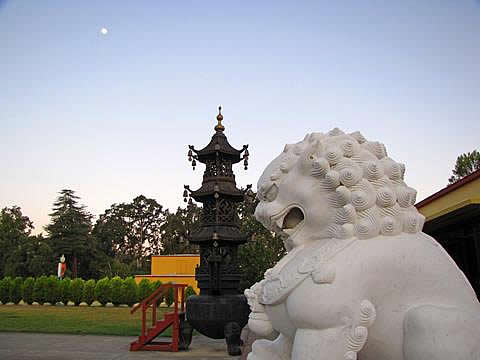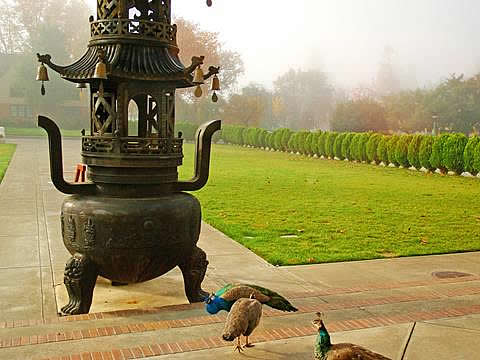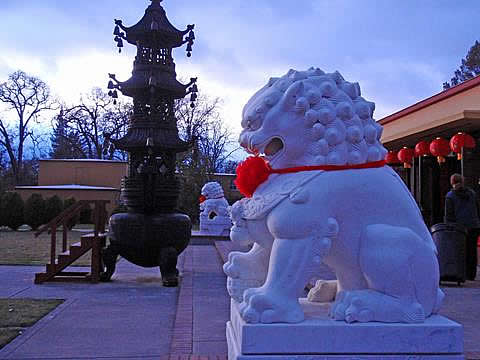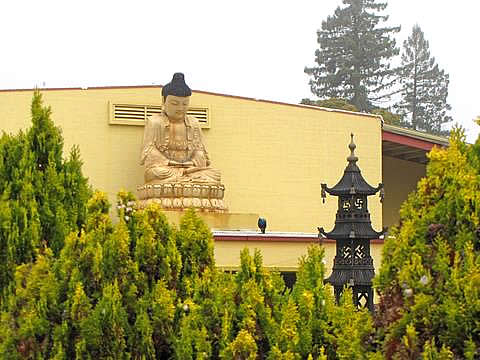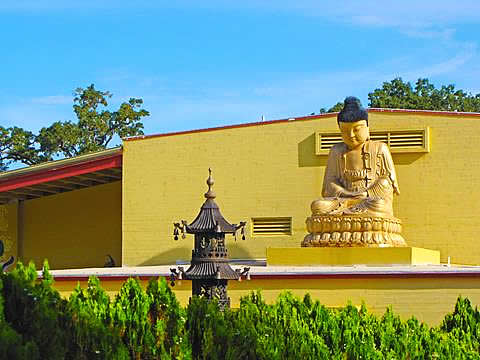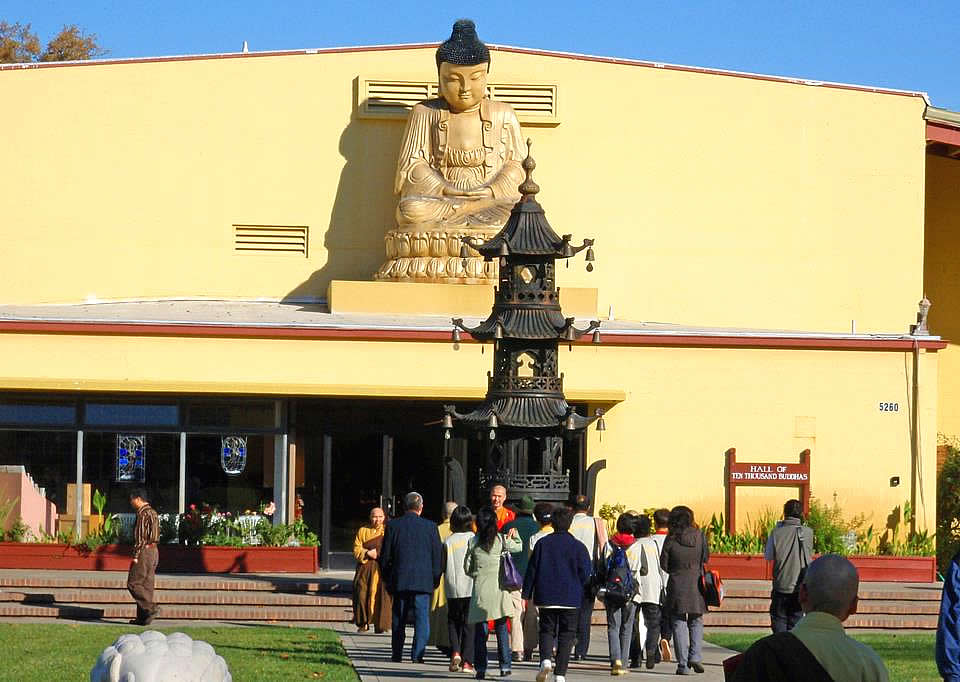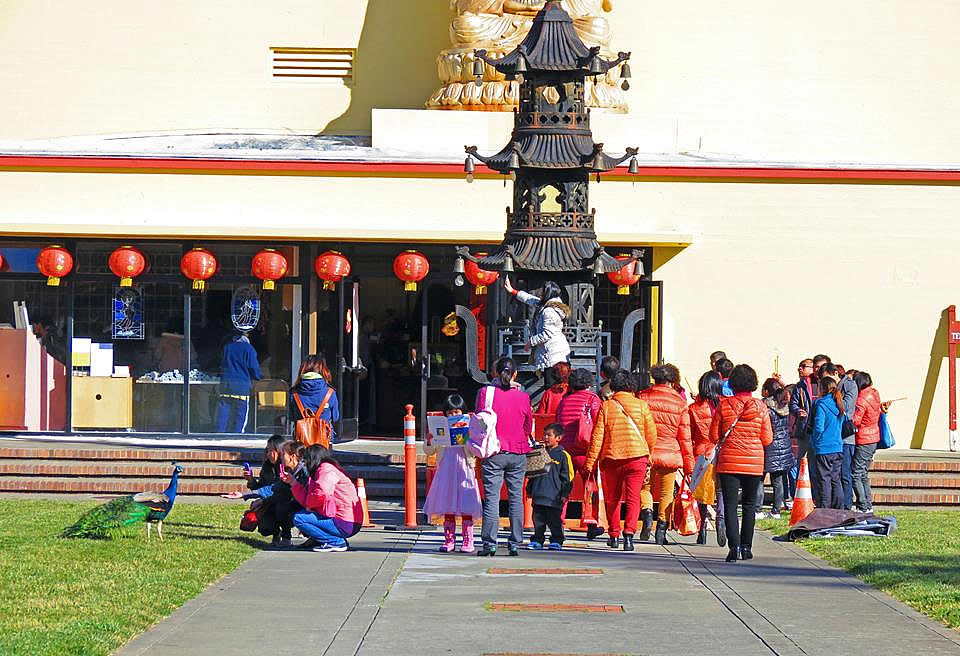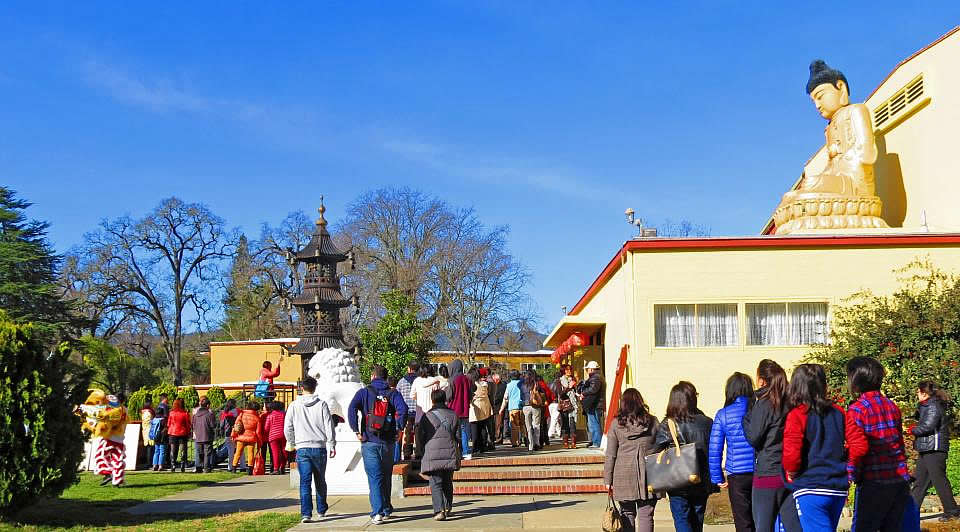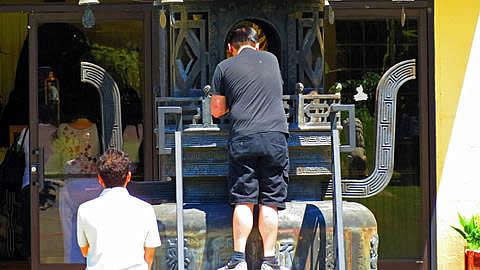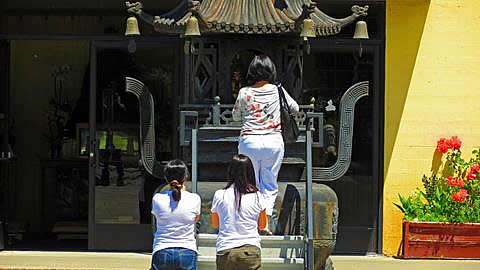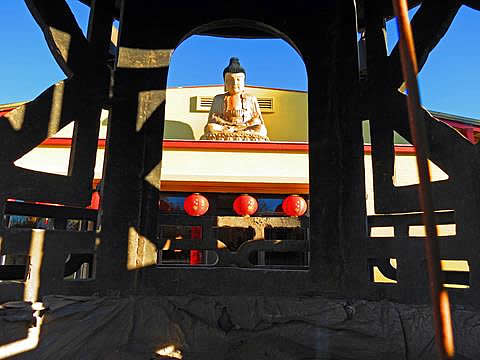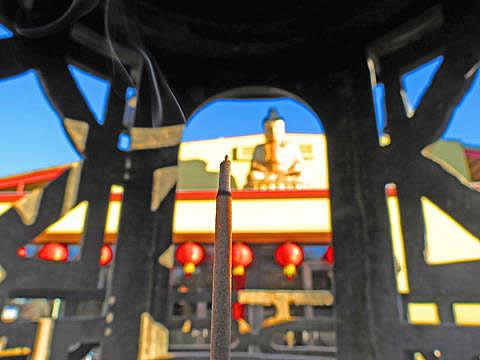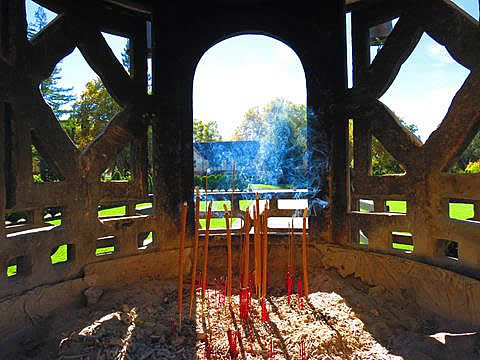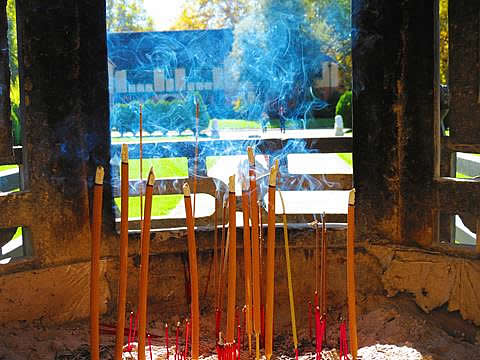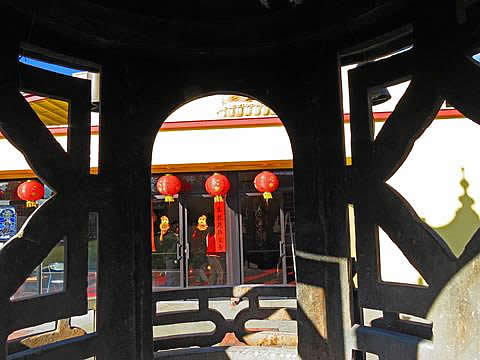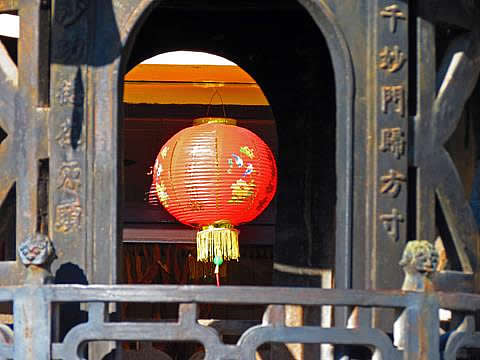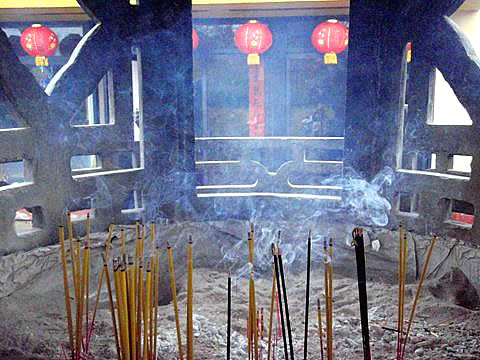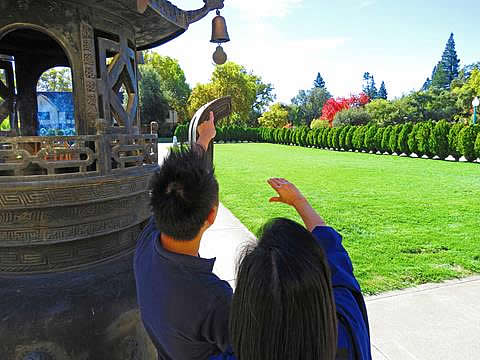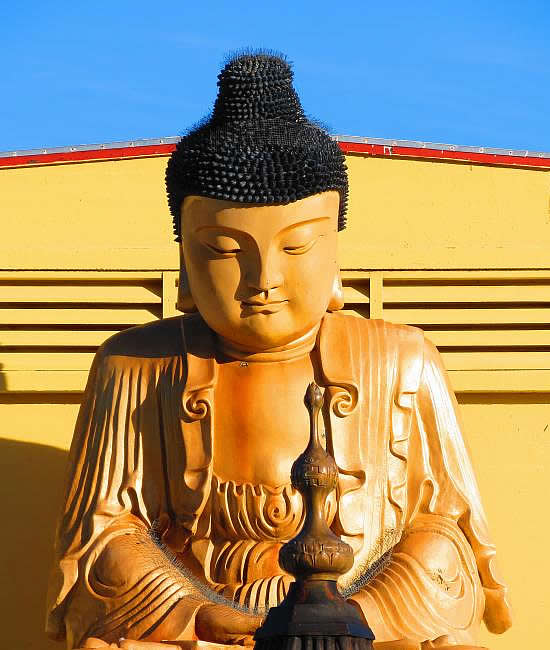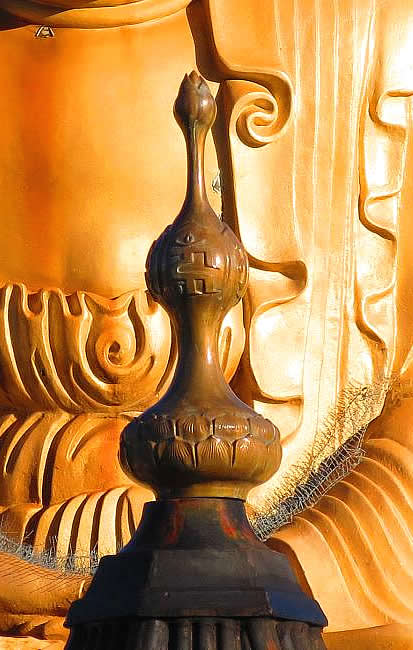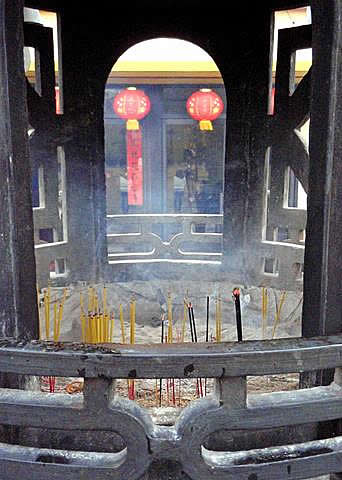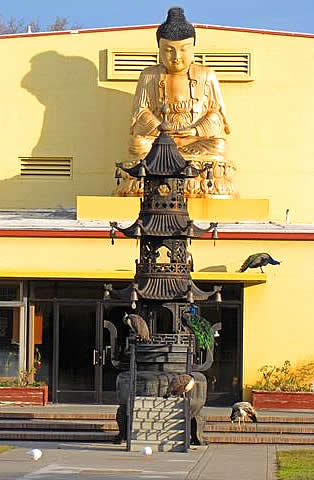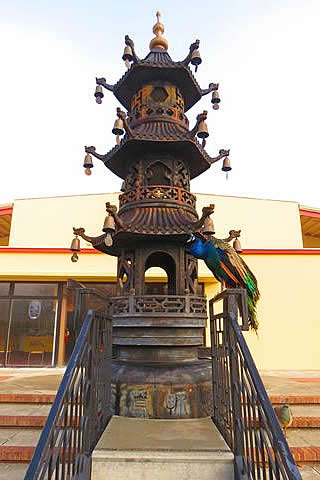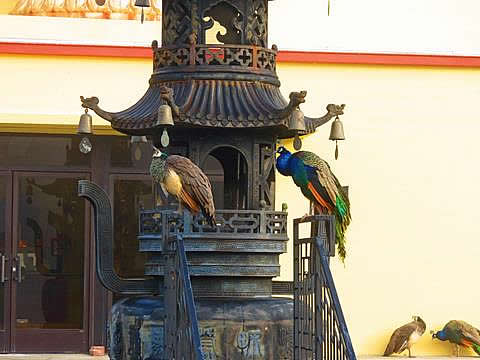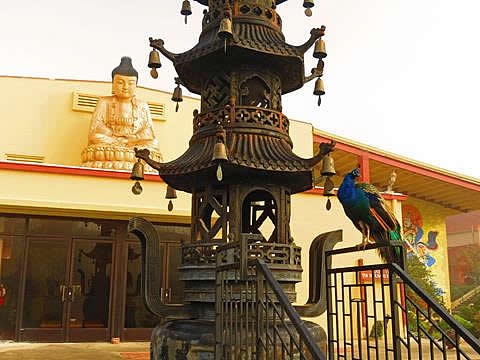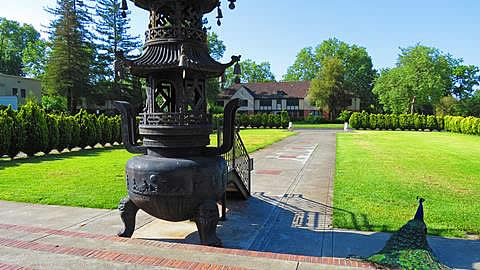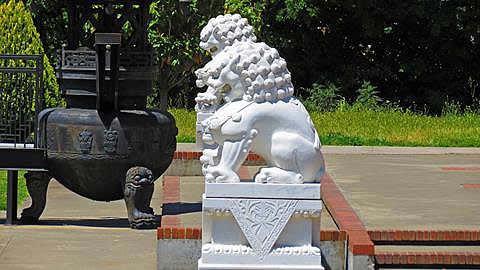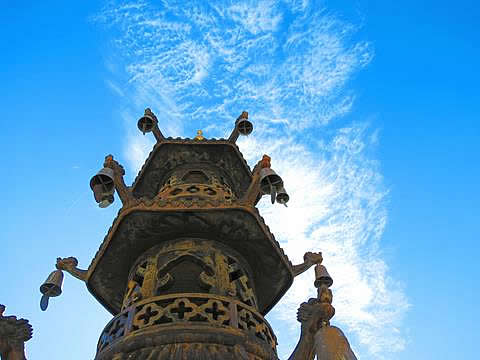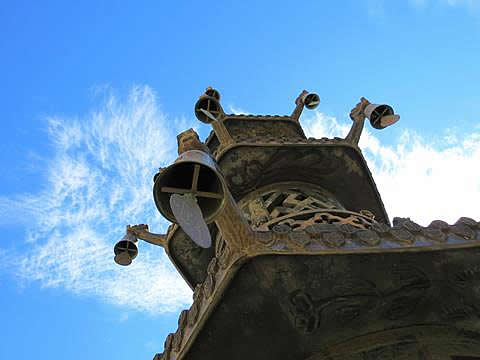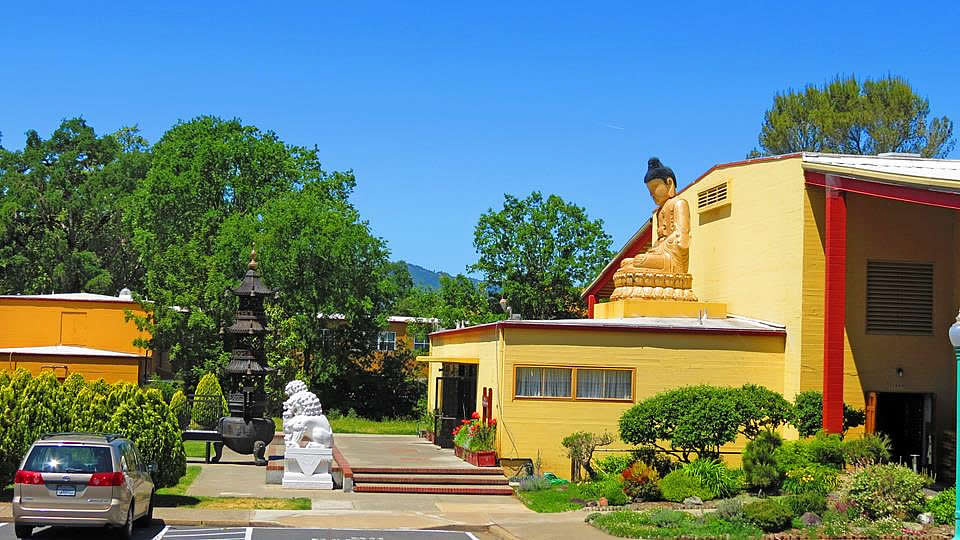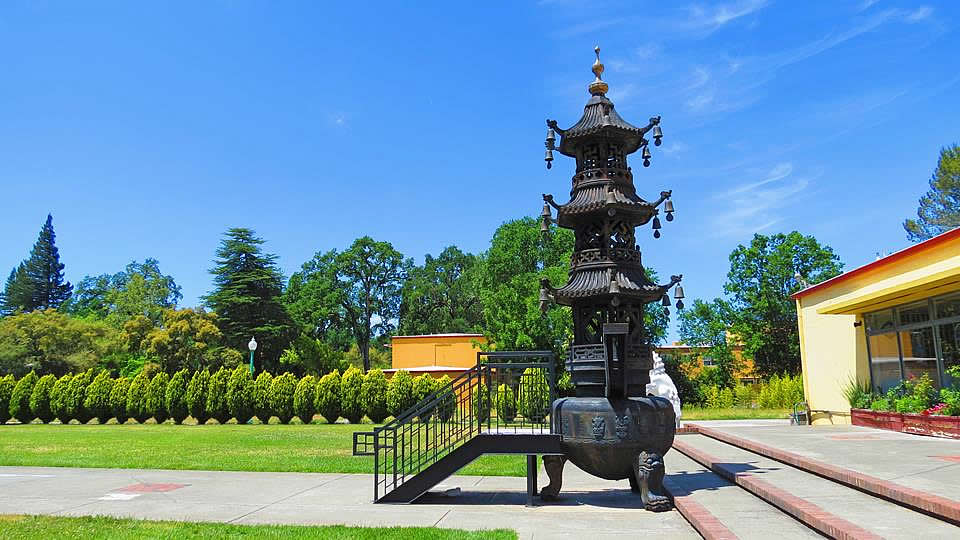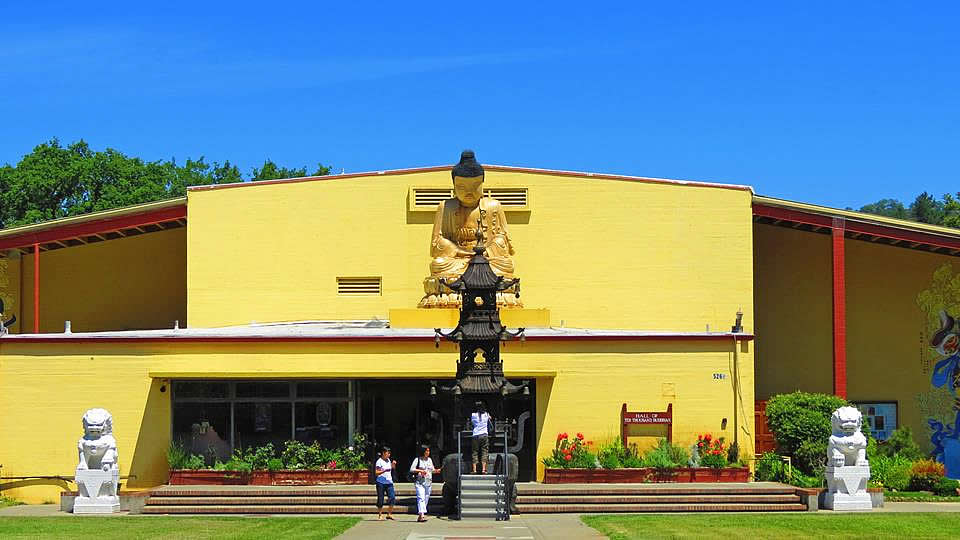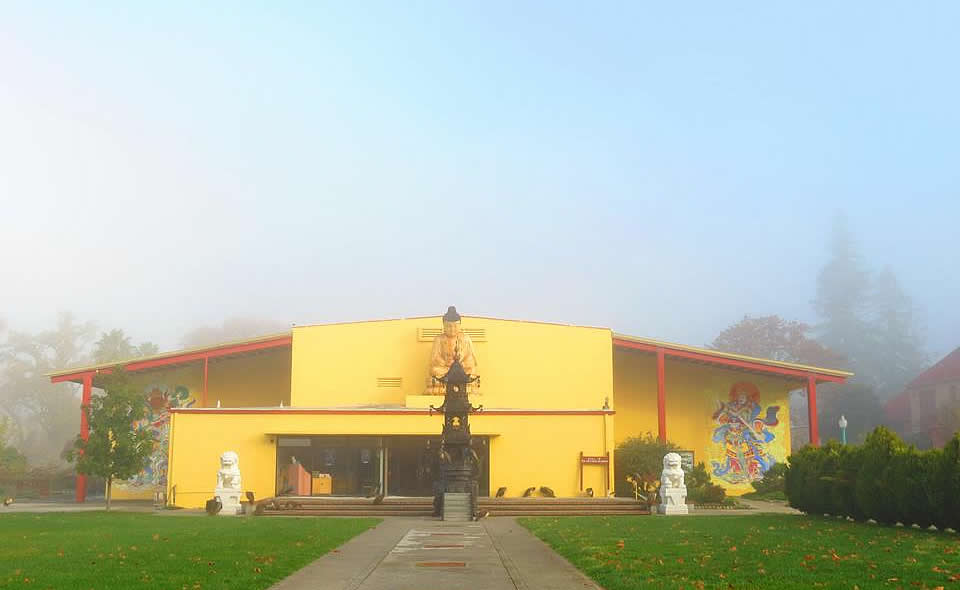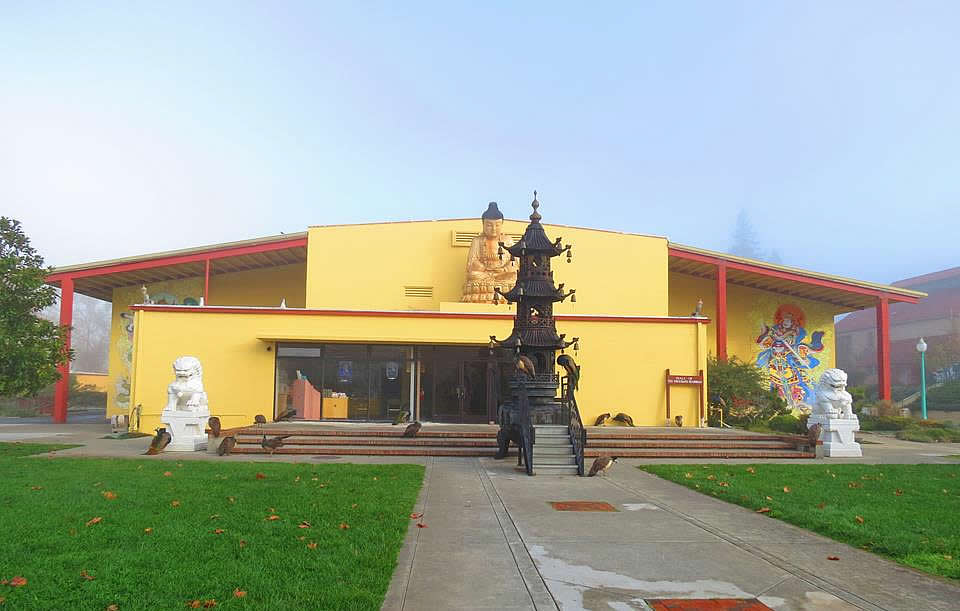 Incense Cedar trees in the background...